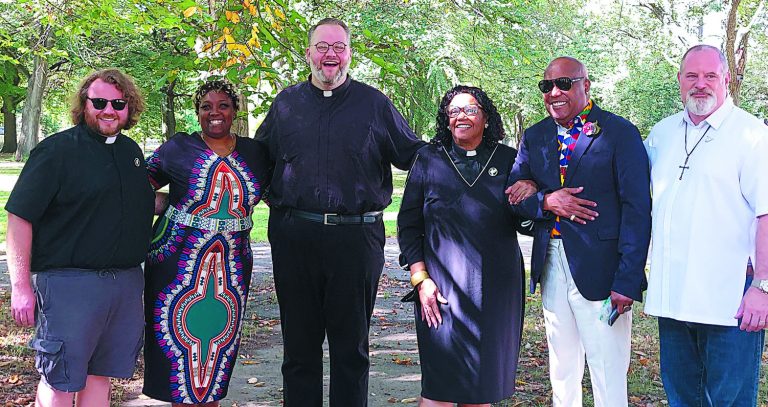 Briefs, Business, Local Business, News, Riverview Park, Trails + Travel, Transportation + Infrastructure
November 8, 2023
Northside Business and Community Briefs: Nov. 2023
*Editor's note: This article was edited from the print edition which ran in the November issue to correct the number of people who attended the prayer rally held by Christ Our Savior Parish.
Allegheny City Brewing opening new location
Allegheny City Brewing is building a new beer garden and tap room, to be located on the land between The Farmer's Daughter Flowers and Fig & Ash along E. Ohio St.
Al Grasso, co-owner of Allegheny City Brewing, discussed the construction during the Oct. 10 meeting of East Allegheny Community Council.
Grasso said the location will be around 2,000 square feet in size, with 800 feet of seating. There will also be a second floor mezzanine and a wrap-around balcony.
In addition to the expected servings of beer, Grasso said there will be a coffee and/or tea component to the location, and Allegheny City Brewing is seeking to sublease the location's kitchen space to another party to serve food at the beer garden.
"Our idea is that you can come in and hang out any time of day, and that we want a space for everyone to congregate at, not just people who want to drink beer," he said.
An exact opening date or name for the location has not yet been determined. When finished, the location will have the address of 510 E. Ohio St.
Northside churches hold peace rally
Christ Our Savior Parish held an interdenominational prayer rally on Sept. 30 at Northside's West Park.
The event was attended by nearly 100 people, and was driven by recent violence in the Northside and neighboring communities.
Many faith leaders from various Northside churches were in attendance, calling for peace.
Deacon Michael Fekete began the rally with a speech recalling the Tree of Life Synagogue shooting and an encouragement to attendees to listen, unite and pray for peace. He was followed by Pastor Parker Kantos from Brighton Heights Lutheran Church, who gave the opening prayer, and a speech by Rev. Brenda Gregg of Destiny of Faith Church.
Other attendees were Nicholas Vaskov, pastor of Christ Our Savior Parish and Director of Shrines of Pittsburgh; Rev. Aisha Tate, the senior pastor of Brown Chapel African Methodist Episcopal Church; and Rev. Deryck Tines of Allegheny Unitarian Universalist Church.
Anyone interested in getting involved with future community faith-based activities can contact the Christ Our Savior Parish office, at (412) 761-1552 ext. 3 or by emailing office@christoursaviorpgh.org.
Feedback wanted for Riverview renovations
Feedback is wanted for a planned set of renovations for Riverview Park's Grand Avenue entrance, also known as the Kilbuck Valley.
These renovations were developed by the Friends of Riverview Park, who will lobby with Pittsburgh City Council to implement the changes. Possible renovations include a daylight stream, a new recreational area and more.
The feedback survey is open only until Nov. 2. It can be found at docs.google.com/forms/d/e/1FAIpQLSeKnhY-x-F-rQmRjLHxUGJFHgUa7fREgksjbJjwk4IFn56bwQ/viewform.
PA CDFI Network hosts small business panel
The Pennsylvania CDFI Network held a panel on Oct. 5 at Emerald City, located at 213 Smithfield St., titled Sustaining Small Businesses.
The panel was moderated by Mark Masterson, executive director of the Neigh- borhood Community Development Fund, and included both business and government officials, including Senator Jay Costa, former state Rep. Jake Wheatley Jr. — who currently serves as chief of staff to Pittsburgh Ed Gainey — and Dan Bish, business development manager for Allegheny County Economic Development. Pennsylvania CDFI Network member Bridgeway Capital's CEO T.J. Bogdewic offered closing remarks.
The speakers and panelists educated attendees about community development financial institutions' (CDFI) work and the network's partnerships with legislators, as shown by grants, loans and technical assistance programs offered since 2020. The network aims to raise awareness in Allegheny County regarding the success it has seen in helping small businesses across the state.
Highlights of the panel included discussions on the more than $300 million distributed stemming from the network and state's response to the COVID-19 pandemic and educational talks on how economic support is key to helping small businesses open and thrive during difficult economic times.
The event was the third in a series of statewide awareness, the earlier two held in Philadelphia and central Pennsylvania.