Mindfulness: An unconventional tool in violence prevention
This is the second article in a series on mindfulness. Read the first one here.
By Mario Cosentino
Northside native Taili Thompson has been impacted by violence his entire life, which is a trend that started before he was even born.
He says his grandmother Pauline Thompson was murdered in 1965 on Ridge Avenue over a dispute between her and a white homeowner who didn't want to be neighbors with Thompson, a Black woman. Three decades later on Jan. 1, 1997, Thompson's brother was shot and killed in front of his childhood home on Jacksonia Street.
Thompson, now a resident of Observatory Hill, subscribes to the disease model of violence: the idea that it can be spread through exposure. His fear was that he could meet a similar fate. At the time of his brother's death, he had already begun to be involved with some of the 'negative activities' in his community and was serving time for smuggling heroin.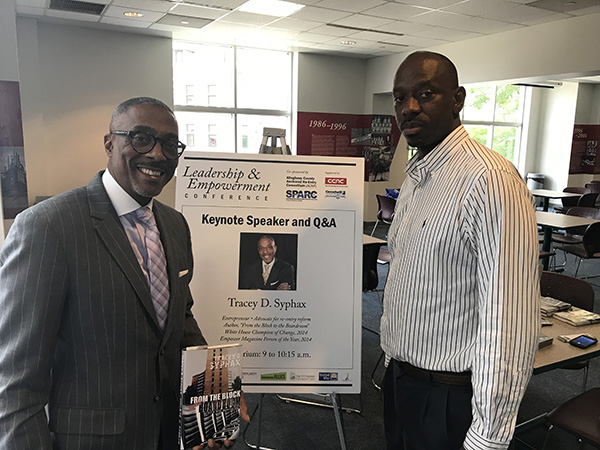 ---
Thanks to two men named Richard, Thompson's life was changed and he found a purpose in preventing the same violence that he was exposed to as a child.
The first one was Richard Garland. Now assistant professor of public health at the University of Pittsburgh and director of the Violence Prevention Initiative in the Center for Health Equity who headed the former One Vision One Life, Garland was hired to do violence prevention work in Pittsburgh in the early 2000s. His approach, too, was based around the disease model of violence. Garland's solution was to help people affected by violence in rebuilding their communities. Thompson was one of the individuals Garland helped.
---
"At the time I was still involved with the activities that I was involved with, but I felt like this was an opportunity for me to do something different, take a chance, hoping to repair some of the damage I may have done in my community," said Thompson.
Thompson became heavily involved in violence prevention and for a time, served as the manager for the Office of Violence Prevention in the Allegheny County Health Department. His work was centered around changing community norms regarding violence.
The second one, Dr. Richard King, met Thompson at a Kiwanis meeting in Squirrel Hill. King, the founder of Mindful Pittsburgh, was an advocate for mindfulness and saw this as an opportunity to implement it. King presented his thoughts to Thompson, but Thompson wasn't interested.
"I think I circled back three times in 18 months. Every six months I'd come back," said King.
King was persistent in sending Thompson material and research on mindfulness, and over time he started to understand the significance of what King was showing him. Years later Thompson now practices mindfulness every day, and admits that it changed his life.
"Prior to practicing it, I could never be present," Thompson said. "You could be in a meeting and all you're processing is what you did before you got to that meeting and what you got to do when you leave that meeting.  You're always trying to multitask."
Thompson believed in this concept to the point that he began to implement mindfulness in his meetings with police chiefs and other county officials to help everyone stay focused. While many of the individuals had the same initial response Thompson had, they slowly bought into it and found their meetings to be more productive by starting with a few minutes of mindfulness practice.
According to King, however, implementing mindfulness on a larger scale for violence prevention has not been as easy. While there is no current program that prevents violence, King believes that the science is there: According to an article in Psychology Today, training in mindfulness can even help elite military forces with cognitive tasks such as sustained attention and working memory. 
"When you're mindful, your fear responses are less likely to be activated, they're less likely to be intense, and they're more likely to recover faster," said King.
With the help of Thompson, King started an eight-week workshop on mindfulness on the Northside at the Allegheny Unitarian Universalist Church.
These meetings catered mostly to adults, and King and Thompson soon realized to stop the spread of violence they would have to reach children at an early age. Thompson believes that this is a significant part of changing community norms and breaking the stigma around mental health. 
"Just being able to teach younger generations that have been exposed to this disease, mindfulness will have their actual brains developed differently and they'll end up processing things differently," said Thompson.
This is a challenge to previously held views on violence prevention that usually point to increased spending on the police as the solution. Thompson would like to see mindfulness implemented in police training in the future, but for now he thinks that the money spent on such training will be better utilized going back into the communities.
"I think it's definitely a tool of training that will be important, a tool that can be used, but right now the community really wants some of those dollars to go towards community activities [and] community resources," said Thompson.
Thompson's ideas are untraditional, but after doing things the same way for a long time, he thinks it's time to challenge the typical ways of going about violence prevention.
"If we aren't open for new solutions then it makes it difficult to get new results."
Related posts:
Right now is the perfect time to start a meditation practice