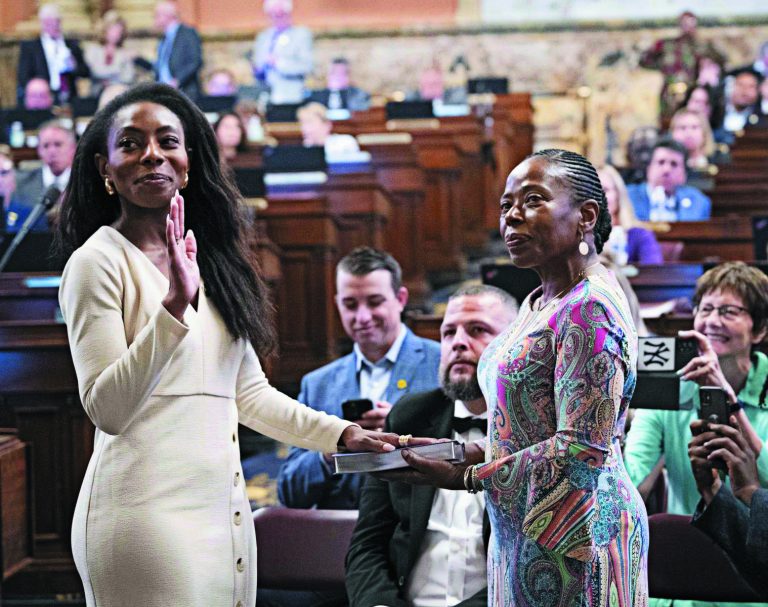 Government, News, Politicians
November 20, 2023
Newly elected Rep. Powell introduces herself to the Northside
District 21 News: State Rep. Powell
Hello, my name is Lindsay Powell, and I am the new representative for the 21st Legislative District. I want to first say thank you for electing and trusting me to represent you in the Pennsylvania House of Representatives. I am excited to hit the ground running in Harrisburg this legislative session and work hard to serve the unique and diverse members of our district. I am dedicated to ensuring safe and dignified housing for all, helping working families, assisting small businesses, and strengthening the local economy, and increasing the number of community assets. I look forward to getting to spend time with you all in the district and learn more about how I can better serve you!
My first weeks as a House representative have certainly been busy, but I'm proud to have added my affirmative votes to legislation that will provide needed funds for public schools and universities and alleviate taxes for working families. I am fighting to keep the University of Pittsburgh's funding because it's imperative that we keep education accessible to all, especially if we want to be a more inclusive and vibrant Pittsburgh. I'm committed to putting the finishing touches on a comprehensive fiscal budget, one that works for all Pennsylvanians! This is just the start, and I could not be more eager to continue to work to protect and serve the great people of the 21st legislative district.
While I am in Harrisburg, my district office staff will be here to help right in our home, Pittsburgh. My district office will remain in the same location at 5154 Butler St., Pittsburgh, PA 15201. We are open and ready to serve you, Monday through Friday from 9 a.m. to 4:30 p.m. and by appointment in the evenings on Wednesdays. We will also be continuing office hours at our Shaler office at the Shaler Municipal Building located at 300 Wetzel Rd., 2nd floor, Glenshaw, PA 15116. We will be there every Thursday from 9 a.m. to 4 p.m., or any weekday by appointment.
Any state related issue, or assistance that you may need, please give my office a call; even if we cannot directly help, we will do our best to put you in contact with someone who can. Here are some examples of ways we can help, but are not all encompassing of the support we offer:
PennDOT services: car registrations and disability placard applications
Complaints about road conditions or infrastructure
Unemployment compensation problems
Property tax/rent rebate applications
Issues related to utility companies
Birth certificate applications and finding copies of your vital records
Senior ConnectCard applications through Port Authority of Allegheny County Call: (412) 781-2750 or Email: Rep-Powell@pahouse.net or stop by our office during the hours listed above.