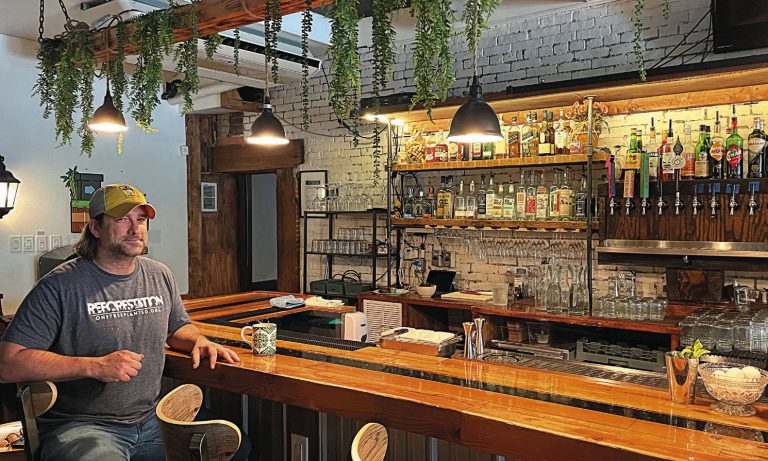 Arts + Culture, Business, Editor Picks, Features, Local Business, News, Troy Hill
October 23, 2023
Town Talk: Scratch & Co. — Where everyone belongs!
By Anna Yoder | Columnist
An abacus, a book entitled "The Drunken Botanist" and a magenta-colored vintage velveteen couch are a few of the items that adorn the inviting sitting area of Scratch & Co., a multi-faceted, unique establishment owned by Don Mahaney. Scratch sits at the crest of Troy Hill and promotes itself as an "all day café and pub" that prides itself on sourcing local, being "accessible to all people" and offers something for everybody. As a resident, Don is "keenly aware of the stability" of Troy Hill and is passionate about being part of its "evolution" yet, does "not want people to have to pay a [high] price for his success" as has occurred in certain other areas of Pittsburgh.
When it opened in 2020 just prior to the pandemic, Scratch (as with most businesses during that time) had to pivot away from in-person dining. Instead, Scratch established a "pay what you can market place" for residents. For three months, Don helped those in the community with food insecurity by offering items from his vendors that would otherwise go unused. This is one way Don continues to be a good neighbor and part of the "evolution of Troy Hill." Don's community involvement is one of the faces of Scratch.
Whether you are seeking a bright and cheery way to start your day, an afternoon lunch with friends or a dinner date in the evening, Scratch can be what Don describes as "most things to most people." Yet, how many options can there possibly be? Let me count the ways: Because the doors to Scratch are open EVERY day, customers can enjoy it seven days a week (almost unheard of with an independently owned establishment). And it's open for breakfast and lunch! My husband and I took the short trip to Troy Hill and experienced Scratch's delightful breakfast. In the café, which is decorated with eye-catching art, we were greeted by the most engaging and friendly wait staff. Scratch features their Hellbenders Bagels, which were conceived by Scratch's own Chef Matt Rahenkamp. Scratch also serves an assortment of unique brunch items such as herbed chickpea toast (heavenly vegan) and a smoked trout sandwich; to the owner's favorite — a pastrami-spiced bagel with horseradish and dill cream cheese. For those drawn to the standard breakfast, there is a delectable breakfast sandwich too. This also is consistent with Don's philosophy of being more accessible by "serving people in the neighborhood during the day who did not have other options."
How about dinner for the meat, fish, or vegan "lover?" You will find several dinner options for every palate in their dining room furnished with cozy booths and a charming bar area. From shareables such as mushroom toast featuring oyster mushrooms, tahini ricotta and beurre rouge; to heirloom carrots with espresso toum i.e., garlic sauce (which are to die for!). Full entrees are offered too, such as walleye or locally sourced trout (whatever is in season) and "brick chicken." There is also a pub fare offering of the all-around favorite the "house smash burger." As the name implies, most everything is made "from scratch." In his "scratch" recipes, Don uses locally sourced products because he believes it tastes better and it also "keeps the money in the community." Don also feels that "exposure to food, locally grown has woefully departed" and is striving to change that.
My husband and I also fortuitously happened upon Scratch on one of their rotating pop-up nights featuring Japanese- style sandwiches and Japanese street foods with exciting cocktail pairings. It was a wonderful experience! The "Co." in the restaurant's name refers in part to 'collaboration', a trait that Don values. And that is exactly what Don does on Tuesday and Wednesday nights when he "opens [the] doors to give others a fair shake who don't own a brick and mortar." These collaborations or pop-up nights add to the fun and options that Don provides for his community.
What's next on Scratch's plate? It's more collaboration and finding ways to "be more accessible to the neighbors." Don has his sights on being part of the revitalization of the firehouse (across from Scratch) intended to give the neighbors even more options, as a market place and taproom.
There are so many ways to enjoy Scratch now and in the future, that Don just might be right: Scratch "can be all things for all people." There is also a colorful mural on the outside of Don's building welcoming you to Troy Hill which proclaims that "Everyone belongs in Troy Hill." So, take the short hike up to visit your Troy Hill neighbor, Don and let Scratch be your "all day café and pub."
Scratch & Co. (scratchandcopgh.com/) is located at 1720 Lowrie St.