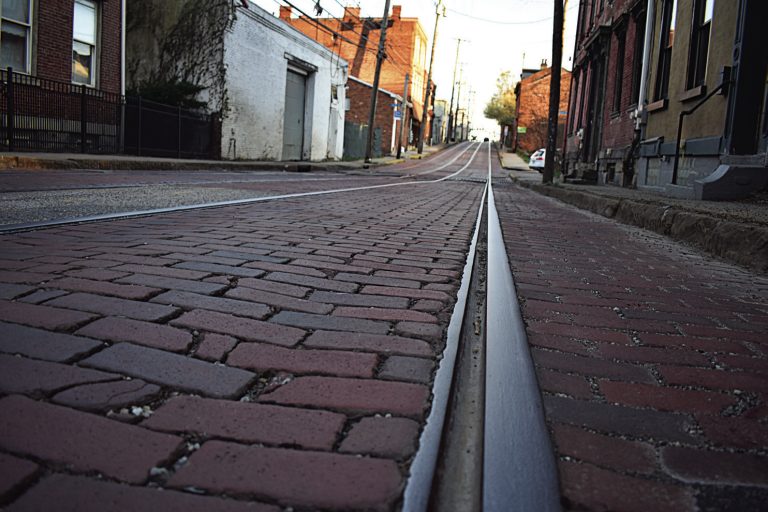 Allegheny City Central, Business, East Deutschtown and Spring Garden, Features, Government, Historic Deutschtown, Local Business, News, Spring Garden
October 18, 2023
Northside Business and Community Briefs: Oct. 2023
A large section of Chestnut Street will likely be closed for the rest of the year, as the city began rehabilitation work on the brick road on Sept. 25.
The work is the first of a planned three stage rehab of the street, and pertains to the section of Chestnut between Spring Garden Avenue to Tripoli Street/Zona Way. Construction is anticipated to continue through the fall and winter, with final touches possibly occurring in early 2024.
As part of the rehabilitation, the historic trolley tracks built into the road are being removed. However, the city said it is looking into partnering with Industrial Arts Workshop to "give the tracks new life in an educational and community-oriented capacity," including possibly as a public art installation.
The street will remain a brick road after the rehabilitation, with new bricks, sidewalks and curbs. Depending on funding from Pittsburgh City Council, the remainder of the road will be rehabilitated next year, or a smaller section will be fixed next year and then the street will be finished in 2025.
The work area of Chestnut Street is closed during construction. Detours are posted utilizing surrounding roads, including Vinial Street, Phineas Street, East Ohio Street, Suismon Street, Madison Avenue and East North Ave.
For more information, visit engage.pittsburghpa.gov/chestnut-street-rehabilitation.
North Avenue Bridge at Brighton Road closed until 2025
The North Avenue Bridge at Brighton Road, which runs over Norfolk Southern Railroad, is closed to all vehicles due to structural issues necessitating a replacement.
The City of Pittsburgh announced the closure on Aug. 28, and said it was due to an "updated structural analysis for the bridge." The city said Norfolk Southern is finalizing designs for a replacement bridge, but construction is not expected to occur until 2025, and motorists should expect delays until the bridge is replaced.
Detours are in place utilizing Western Avenue or Pennsylvania Avenue. The closure does not affect the Brighton Road portion of the bridge, which remains open but is posted at 10 tons.
City seeks feedback on East Ohio Street renovations
Pittsburgh's Department of Mobility and Infrastructure (DOMI) is developing a plan for possible renovations of a section of East Ohio Street, between Chestnut Street and Cedar Avenue, and is looking for public input.
DOMI held a public meeting on Sept. 19 at Allegheny Center Alliance Church to discuss the plan development and gather comments from residents. Interested parties can also comment at the project's Engage page.
The plan development does not necessarily mean renovations will occur. As explained by DOMI officials at the meeting, funding currently extends only to development of the plan, which Pittsburgh City Council will later decide on whether to fund or not. However, Councilman Bobby Wilson said three applications for grant funds have already been submitted, and he plans to make getting the renovations paid for a "top priority."
The primary purpose of the possible developments is to improve pedestrian safety and transit access along the road.
Panini Chowdhury, the project manager on the plan development, presented some possibilities at the meeting. For example, the city could expand sidewalks to 15 feet on both sides of the road while narrowing the driving lanes to 11 1/2 feet and restrict parking to a 7-foot parking lane on only one side of the road. Alternatively, 5-foot bike lanes could be added with 10-foot sidewalks, 10-foot driving lanes and a 7-foot parking lane on one side only. A third possibility is for 15-foot sidewalks, 5-foot bike lanes, 10-foot driving lanes and no parking lanes along the corridor.
Chowdhury said DOMI could leave the street as is in terms of proportions, but would still plan for other improvements. Regardless of which proportion plan, he said DOMI is considering several possible safety features such as bike lane traffic lights, speed bumps to slow traffic, raised intersections to increase visibility of pedestrians, improved lighting under the I-579 bridge and other such features.
For more information or to leave a comment, visit engage.pittsburghpa.gov/east-ohio-st-streetscape-impovements.
DOMI hopes to have the plan finalized sometime this winter or in Spring 2024.
CASGED seeks sponsors for planters
The Community Alliance of Spring Garden and East Deutschtown (CASGED) is looking for donations and sponsors to support planters positioned around the neighborhood.
CASGED has 10 of these planters and works with Western Pennsylvania Conservancy to support them. The alliance is seeking individuals or businesses to financially support one or more of the planters to support their maintenance.
Sponsorships will cost around $400 per planter per year.
Anyone interested can contact CASGED through their website, ca-sged.org, or by emailing info@casged.org.
The need for planter supporters was discussed at CASGED's first community celebration meeting, which took place on Sept. 12. The celebration was an expansion on the alliance's normal regular meeting, with an opportunity for members of the public to interact with and mingle with alliance members. There were also representatives from Pittsburgh Police, the mayor's office and ALCOSAN. Councilman Bobby Wilson was also present.
"It was designed to create more opportunity for fellowship and interaction between our board members and the community," said Karen Denner, interim executive director of CASGED.
Denner said the celebration was a success — with around 50 people present compared to the usual 20 at the alliance's meetings — and that the alliance might hold more in future years.