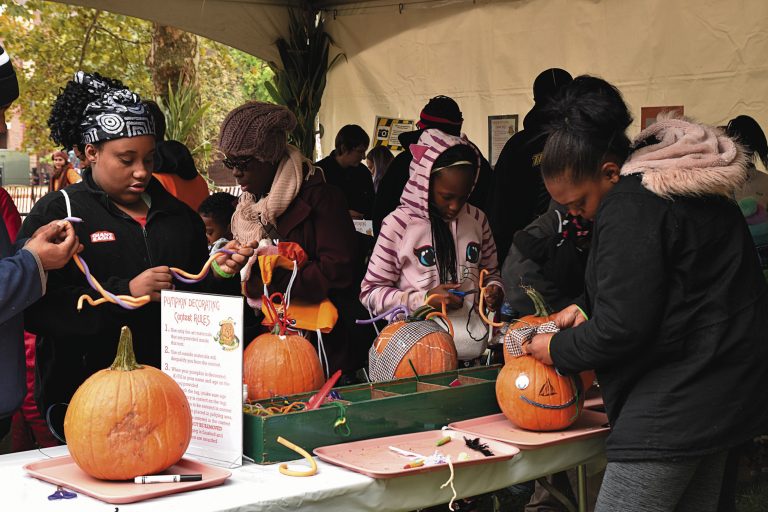 Allegheny City Central, Allegheny Commons, Editor Picks, Event Coverage, Features, News
October 11, 2023
Northside Pumpkinfest is back!
On Oct. 12, 2019, the 28th Annual Northside Pumpkinfest took place at Allegheny Commons Park, the same as it ever had for the past nearly 30 years. It had rides, a petting zoo, puppet shows and more, all the things people had come to expect from the traditional Halloween event on the Northside.
Few knew at the time that it would be the last Pumpkinfest for quite a while.
As the COVID-19 pandemic still ravaged the world, Pumpkinfest became one of the many events canceled due to the disease. The years passed by — 2020, 2021 and 2022 — with no sign of the much beloved Pumpkinfest.
Now, in perhaps an appropriate metaphor for the Halloween season, Pumpkinfest is ready to rise from its proverbial grave and is poised to make a comeback this October.
Northside Pumpkinfest will return to Allegheny Commons Park on Oct. 14, for its much delayed 29th year. For Barbara Burns, co-founder and head organizer of the festival, it's been an unexpected but welcome turn of events.
"Well, I wasn't sure if it was coming back," Burns told The Chronicle.
In the intervening years between the last Pumpkinfest and this year's iteration, Burns dealt with some health issues which took a long time for her to recover from. In addition, some of the people she was used to working with to organize the festival left their positions for one reason or another.
However, people who loved Pumpkinfest and what it brought to the community kept asking about it. Eventually, Burns happily relented to their requests, coming back for at least one more year.
"It was really other people who said they would like to bring this back," she said.
Of course with many years in between, organizing the festival wasn't exactly as it had been. As mentioned, Burns found herself having to work with new people at the various groups and businesses she coordinates with to put on Pumpkinfest.
But after nearly three decades of putting together Pumpkinfests, Burns can assemble the event from memory at this point.
"After 29 years, I don't need it written down," she said.
Pumpkinfest got its start in 1991 with Burns and another woman, Carole Annis, who were both school directors with Pittsburgh Public Schools. The pair had been interested in organizing a children's festival for the October season.
Burns explained the pair didn't want to make the festival Halloween-themed, but more based around a harvest day. Eventually Burns founded what was then called Deutschtown Pumpkinfest, while Annis created its sister event, Brightwood Pumpkinfest.
For Burns, Pumpkinfest recalls the festivals she would attend as a child, playing games like penny bingo and going on pony rides.
"That, to me, is part of growing up and feeling good about where you live and feeling good about your neighbors," she said.
The two carried on in tandem for a while, with both festivals celebrating their 25th anniversaries in 2017. However, the Brightwood festival eventually ceased, and Deutschtown Pumpkinfest became Northside Pumpkinfest.
Aimed at kids up to the age of 12 and their families, Pumpkinfest is returning with many of the favorite activities it is known for. There will be a petting zoo, ponies, live entertainment, mechanical rides, hay bale rides, puppet shows and much more.
There will also be, of course, plenty of pumpkins.
"You can't have Pumpkinfest without pumpkins," Burns said.
Organizers work with Giant Eagle to bring in thousands of pounds of pumpkins for kids to pick their way through. Kids will be able to take home a free pumpkin, with decoration supplies provided. There will even be on-site pumpkin judging.
"The kids are very competitive," Burns said of the pumpkin decorating. "I would never be a judge. Never."
Pumpkinfest is hosted by East Allegheny Community Council. Burns and the council also work with many other groups to help put on the event, including One Northside, local churches, CitiParks and Pittsburgh City Council.
As for the future, Burns is ready to take a permanent break from organizing Pumpkinfests.
"After 29 years, I'm hoping to retire," she said. "I keep saying 'Who am I training?'" However, she feels if people truly value Pumpkinfest, someone will come forward to keep the event running. How much they change or don't change will be up to them, but Burns is proud of what she's accomplished with the festival.
Northside Pumpkinfest will take place Oct. 14 at Allegheny Commons Park. Registration will begin at noon and entrance requires a $5 donation per child. There are no other costs at the event for attendees, and the festival will run until 5 p.m.