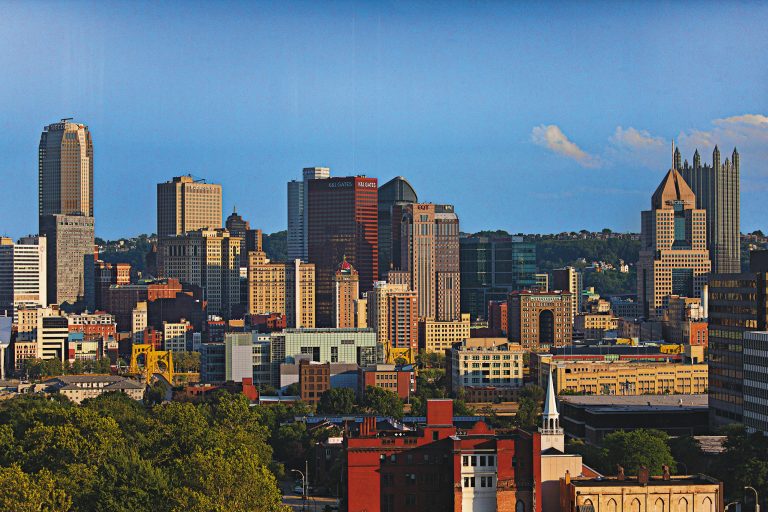 Arts + Culture, Editor Picks, Features, News
October 9, 2023
Narrow victory in Best Northside Views Photo Contest
By Sean P. Ray | Managing Editor
It came down to the wire folks.
When we at The Northside Chronicle got into the office Wednesday morning to finish the paper, our Best Northside Views Photo Contest was locked in a three-way tie. We had to start making plans for how we were going to accommodate three pictures when only one had been planned for. Then, at the last moment, at 11:37 a.m., only 23 minutes before the vote closed, there was a tie breaker. We had a winner by only a single vote.
Coming out on top was Carla Cardello of Troy Hill, with her photo of the Pittsburgh skyline taken from the 10th floor of Allegheny General Hospital. Although the photo itself may be of downtown, it was taken from an angle only possible on the Northside. And what a view it is!
You can see the Tree Sisters bridges and most of Pittsbugh's most prominent skyscrapers, including the Fifth Avenue Place, One PPG Place, BNY Mellon Center and One Oxford Centre, representing four out of the five tallest buildings in Pittsburgh.
While the city's tallest building, the U.S. Steel Tower, may be just off-frame, there are also plenty of smaller but significant buildings to pick out. One personal favorite for me is the Fulton Building, home to the Pittsburgh Renaissance Hotel. Of course there are also plenty of Northside buildings in view as well. Perhaps most prominently is the steeple of Allegheny Center Alliance Church, shown toward the bottom right of the frame, and from an angle most people probably don't see of the tower.
This look at downtown was a welcome treat for Cardello's mother when she was in the hospital. It was in her mother's hospital room that the winning photo was taken.
"Unfortunately my mom had an injury, but at least she had a great window view," Cardello told us.
So congratulations to Carla Cardello, the third winner of a Northside Chronicle Photo Contest. We'll also post our runners up on our website later this month, so keep watching thenorthsidechronicle. com to see some more great Northside views.
Now we begin the hunt for our fourth victor.
That's right folks, we've got another photo contest to close out the year on. With October, November and December coming up, that means it's the holiday season! Halloween, Thanksgiving, Hanukkah, Christmas and Kwanzaa are all right around the corner, with all the decorations that come with them.
As such, the theme for our fourth photo contest is Spirit of the Holiday! We want your best photos of decorations, holiday traditions or anything else that fits into the theme.
This contest is restricted to Northside residents. Entries can be submitted over our Instagram, nschronicle, or emailed to editor@thenorthsidechronicle.com.
Entrants should include their name, what Northside neighborhood they live in, what holiday their photo is in the spirit of and, optionally, a title.
The deadline to submit a photo is Dec. 20. Voting will begin on Dec. 21 on our website and end on Dec. 27, at noon. The winner will have their photo published in the January 2024 issue of The Northside Chronicle, and garner certain bragging rights.
So get out their Northside and capture the Spirits of the Holiday! And best of luck taking those photos.