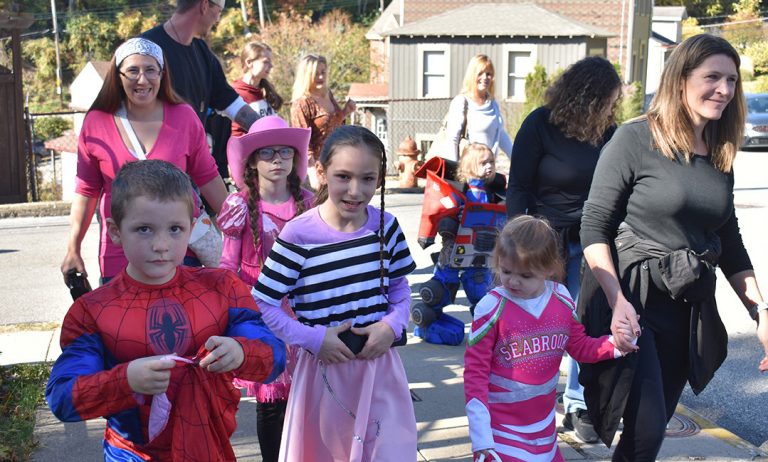 Brighton Heights, Business, Event Coverage, Local Business, Marshall-Shadeland, News, Observatory Hill, Spring Hill, Troy Hill
October 2, 2023
5 spooky Northside Halloween events
By Sean P. Ray | Managing Editor
It's October, which means it's officially the Halloween season.
There are plenty of ways to celebrate the spookiest time of year, whether it be haunted houses, halloween parades, trick-or-treating or any other ghoulishly delightful methods you can think up.
Northside residents won't have to travel far to get the most out of the Halloween season. We've gathered a list of five fun Halloween events, taking place this month right here on the Northside, enough to hopefully sate the appetites of spooky season fans.
1. Spring Hill Halloween Parade and Fall Festival
Spring Hill Civic League will host their annual Halloween Parade on Oct. 21, with starting registration at 11 a.m.
The parade will begin at Spring Hill Elementary School. The parade typically begins at 11:30 a.m. and the costumes of parade participants will be judged for prizes.
The parade route is a .7 mile walk, and strollers and wagons are welcome. The parade will be escorted by a marching band and mounted county police officers.
The parade is followed by the Spring Hill Fall Festival at the Spring Hill Playground/ Baseball Field from noon to 4 p.m.
For more information, visit the parade's event page on Facebook. Anyone interested in volunteering or sponsoring the event can email lucarelli.karen@yahoo.com.
2. Trunk or Treat at Young Brothers
Young Brothers Bar in Marshall-Shadeland will host their fifth annual Trunk or Treat on Oct. 28, from noon to 4 p.m.
The event will take place at the parking lot of Young Brothers, which is located at 1441 Woods Run Ave.
In addition to candy for kids, there will be games and raffles for attendees. Costumes are encouraged.
3. Brighton Heights Halloween Parade
Brighton Heights Citizens Federation will hold their annual Halloween Parade on Oct. 21.
Registration will take place in the parking lot of Kunsak Funeral Home on the corner of Davis and Massachusetts avenues, and will run from noon to 1 p.m., with the parade beginning afterwards.
The parade route runs up Davis Avenue to Legion Memorial Park.
For more information, check out the Brighton Heights Citizens Federation Facebook page and look for the Halloween Parade Event page.
4. Pittsburgh Higher Ground Harvest Festival
Pittsburgh Higher Ground, a non-denominational church, will host a Harvest Festival on Oct. 28, beginning at noon.
The event will take place at 3505 Perrysville Ave. and will feature music, face paint, games, crafts, food and more. Donations will be accepted.
For more information, contact pghhigherground@gmail.com or call (412) 475-6785.
5. Pigtoberfest
Troy Hill Citizens, Inc. are holding their fifth annual Pigtoberfest, the community's fall season celebration.
The event, which will be held rain or shine on Oct. 21, and features a pig roast, live music, games, pumpkin painting, a raffle and more. It will take place at Troy Hill Citizens Park, located on Lowrie Street.
Pigtoberfest kicks off at noon and runs through 4 p.m.