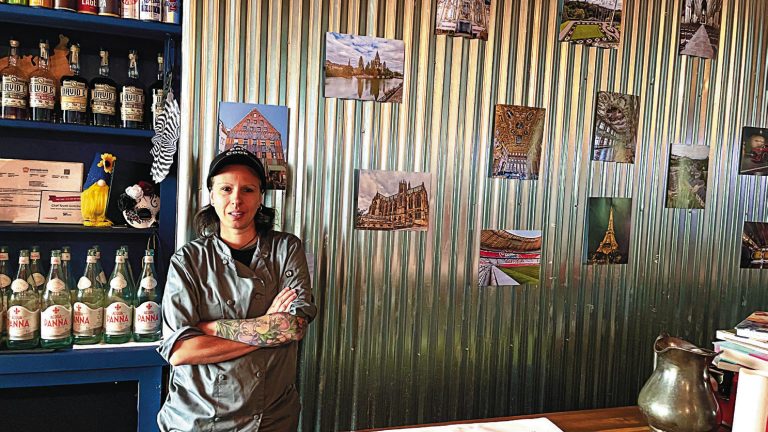 Brighton Heights, Features, Local Business, Main, News
September 27, 2023
Town Talk: De Pan Y Queso Bocadillos Bar — Eat. Cook. Travel.
By Anna Yoder | Columnist
When a new friend shared a tip that she worked at a Spanish-influenced restaurant with a Bulgarian flair nestled on an overlook in Brighton Heights not far from the St. George's Ukrainian Catholic Church, I simply had to try it!
"Eat. Cook. Travel." is the theme of this restaurant, aptly named De Pan Y Queso Bocadillos Bar — an "off the beaten path boutique music, craft cocktail and super interesting food venue" as described and owned by Chef Tzveti Gintcheva. Tzveti found the "mixed use building" (and former neighborhood landmark) when searching for a duplex as a business venture. Tzveti refers to the discovery as a "happy accident" yet had to "remodel the whole building herself" before Bocadillos Bar (as it is affectionately called) was born. Although its location is not that much off the beaten path, its concept is, with its unique approach to dining.
Tzveti opened the existing concept of Bocadillos Bar in November 2021; yet her story began many years prior. Born and raised in Sophia, Bulgaria, Tzveti came to the United States to earn her bachelor's degree in international business and worked in the "corporate world." Yet, she felt a tug of her heart drawing her to a new career to work in restaurants. Over the next 24 years, Tzveti did just that by working in the "front and the back of the house" of several wellknown restaurants including Café Zinho. To further her culinary experience and with hopes of opening a place of her own, Tzveti landed a one-year culinary internship in Madrid, Spain. This internship was the inspiration from which she adopted "the European way" to eat a relaxing dinner later in the evening by nibbling on appetizers with a light beer or glass of wine.
Not only is the restaurant's and its owner's name a mouthful, the tantalizing and delectable recipes from this "Bread and Cheese Sandwich Bar" (an "interpretation" of the restaurant's name) are too. Bocadillos Bar features an appetizer menu taken from "all over the world" and is influenced by Tzveti's Bulgarian heritage. The menu is extraordinary (and vegan friendly too) with its vegetarian mezze, an appetizer featuring lutenitza (a Bulgarian roasted red pepper spread), Kimchi, white bean salad, eggplant immambulda, olives and house-made tursjhia (a yogurt tzatziki-like sauce). And there's the Turkish mezeluk plate, a combination of kufte meatballs, feta cheese, chickpea hummus and a side of lutenitza. Tzveti explained that feta and yogurt are two classic Bulgarian staples which she uses in many of her dishes.
What about a dish for the pescatarian? Try the scrumptious Norwegian plate — an assortment of fish showcasing smoked Nordic salmon, Baltic-sea Saliotka fish, caviar Greek tarama and spicy blind robins, or the Mejillones en Escabeche, i.e., "mussels Spanish style." And if you are not that adventuresome, there is the exceptionally tasty cheese plate, a variety of small batch, artisanal cheeses beautifully presented with fruits and nuts.
What else makes Bocadillos Bar so special? In addition to her upscale, unique, and "worldly" appetizers, Tzveti is committed to using locally sourced food such as the Fun-gal Farms oyster mushrooms for her "Setas Con Jamon" appetizer (a "popular but underrated" customer favorite which means mushroom with ham in Spanish) and only Pennsylvania distilled liquors for her craft cocktails. Bocadillos Bar is also licensed as a winery and Tzveti ferments the grapes on site! Tzveti favors the deep crimson "Carménère" wine vinted from the carménère "full body grape varietal" from Chile which boasts a flavor between Merlot and Cabernet.
The craft cocktail list is also as imaginative as it gets, with a truly 'yinzer' offering of a "Pickles n'at Martini" made with Pennsylvania distilled vodka, dill pickle juice, parma coppa seca and blue cheese stuffed olives. There is also a "Pretty in Pink Margarita" (my personal favorite. It's as pretty as a beverage gets!) and a Puerto Rican inspired "Caribbean Blue Mojito." Now a full-fledged Pittsburgher, Tzveti also gives a nod to our Pittsburgh jargon with the offering of the "Gumband Old Fash- ioned" concocted with a "fig and orange infused Pennsylvania based bourbon."
To keep things extra fun and inviting for her customers, Tzveti organizes "pop ups" once a month, featuring a band or a guest chef which in part, is "fueled by the clientele." Tzveti continues to be "humbled and grateful for all the support" of her customers and friends and is "committed to growing in and with the neighborhood." In the near future, Bocadillos Bar will be offering flatbreads and plans to "expand the outdoor infrastructure" with an outdoor pavilion for bands and an outdoor kitchen.
If that's not enough to hold your attention, part of the back bar is a "rotating photo essay wall." It is ingenious and incredible! The various past photograph displays have touched on many topics such as the opioid epidemic, war in Ukraine, Puerto Rican life and Balkan Romani with their dancing bears. (By the way, in 1999 Bulgaria outlawed dancing bear performances and the rescued bears now live in a sanctuary). The thought provoking photographs (some taken by staff members) are intended to promote engaging and interesting conversation among the customers.
And if the restaurant and winery aren't enough to keep her busy, on the side, Tzveti does "personal cheffing" and "specialized catering" through her company Alchemy Catering, whose motto is "Foods Beyond Borders."
I am grateful to the friend who introduced me to Bocadillos Bar, and because of it and my wonderful experience there, this friend just may be my new best friend!
So, if you want to take a trip around the world and not travel outside of the Northside, hop on over "off the beaten path" to De Pan Y Queso Bocadillos Bar. The journey is well worth it!
De Pan Y Queso Bocadillos Bar is located at 2827 California Ave.