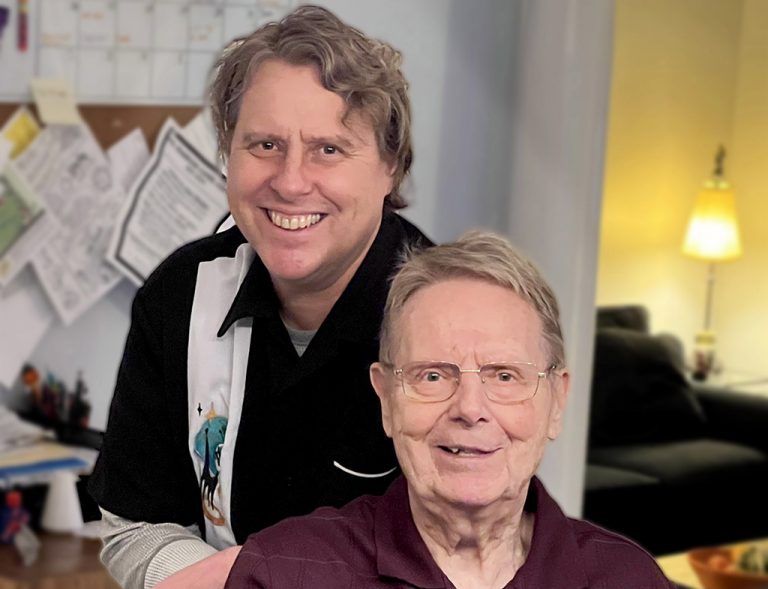 Editor Picks, Features
January 19, 2023
A Year in Review: Taking a look back at The Chronicle's biggest stories of 2022
Photo: Pete Geissler, right, wrote a book with his son Jeff, left, about George Ferris, the inventory of the Ferris wheel.
By Sean P. Ray | Managing Editor
Welcome to 2023, Northside!
With the coming of January, another year has passed. And what a year it has been! Here at the Northside Chronicle, we got a new office and a new managing editor.
In the spirit of seeing 2022 off, we're taking a look back at the most popular Northside Chronicle articles from the past year, on a month-by-month basis. We'll start in January 2022 and continue through December, recounting both the good times and bad. See how many stories you remember reading.
January: Local father-son duo tell the story of famous Northside engineer
Just about everyone knows of the popular amusement park attraction known as the Ferris wheel. What fewer people probably know is that the inventor of that ride, George Ferris, was a Northsider at one point.
Digging into Ferris' history was a feature story in January for the Chronicle as we spoke with local writer Pete Geissler and his son Jeff. The pair had written a book titled "The Rise and Fall of George Ferris: Love, Deceit, and The Wheel," delving into Ferris' background with a first-person narrative written from the perspective of the inventor himself.
According to the Geisslers, Ferris lived at 1318 Arch St., and stayed in Pittsburgh for around 12 years, working as an engineer.
Pete himself is a Northsider, and lives a half mile away from where Ferris lived. Pete formerly was a professor of professional writing at Carnegie Mellon and Duquesne universities, and now works as a freelance writer. It was Jeff, however, who pitched the idea of doing a book on Ferris.
February: Local boxer secures spot on Team USA
February's most popular story was a relatively short one, but with a big impact for Pittsburgh.
Michael "Spoonie" James, a boxer from Pittsburgh, won the Junior Men's 176-pound division, securing him a position in the 2024 Olympics in Paris.
James is the junior team captain for Downtown's 3rd Avenue Boxing team. He was joined at the competition by other teammates, such as Senior Team Captain Delbert "Sonny" Taylor, of Historic Deutschtown, and Keon Kyte, Misael "Beanie" Barrasso, Nazir "Bones" Deviner and Quentin Jackson. Taylor advanced to the quarter finals in the competition, and was ranked sixth in the country in the Elite Men's 76 kg. Division at the time of The Chronicle's article.
March: The Great Escapes: Infamous getaway stories from Pittsburgh's Northside
On Sept. 25, 2021, the sea eagle Kodiak escaped from the National Aviary. His escape led to a bird-hunt which lasted until Oct. 3, during which time the Aviary was closed to focus on recovery operations.
During his escape, he was spotted all over the Northside and was eventually recovered in Pine Township. In the spirit of this grand caper, the Chronicle's most popular article in March focused on Kodiak and other grand escape stories from the Northside's history.
These tales ranged from a plot to drill out of the historic Western Penitentiary to free a man who shot Henry Clay Frick, to five police horses escaping their stables in the Northside.
There was even a story of another person digging a hole out of Western Penitentiary, one which was more successful than the first. However, the prisoners may have broken out of jail, but they did not escape the long arm of the law, and were all eventually recaptured.
Whatever the level of success, the popularity of this story proved the Northside loves a good escape attempt.
April: In memoriam: Matthew Onyshko
April's most popular story ended up being a dour note for the Northside, as it memorialized City of Pittsburgh firefighter and Brighton Heights resident Matthew Onyshko, who passed away on March 6.
Onyshko had worked at the Historic Deutschtown Firehouse for around 16 years. He was also noted for filing a 2013 lawsuit against the National Collegiate Athletic Association (NCAA) regarding concussions he allegedly experienced during his time as a linebacker for the California University of Pittsburgh from 2000 to 2003.
Onyshko said his concussions led him to develop amyotrophic lateral sclerosis, otherwise known as ALS. His bringing attention to the issue led him to appear twice on "The Ellen DeGeneres Show," where he recounted his experience with the condition and how his fellow firefighters helped cover his work shifts after his diagnosis so he could still receive paychecks and benefits.
May: How Dirt Doctors survived and thrived through the COVID-19 pandemic
The COVID-19 pandemic was a difficult time for many businesses. Many were forced to temporarily close to meet health guidelines, with employees getting furloughed and regular customers staying home.
In May, however, the Chronicle looked at a case where the opposite occurred. Dirt Doctors Cleaning Services managed to come out of the pandemic not just still standing, but growing.
Founded by partners Tim Maloney and Scott Gossic in 1998, the business began primarily focusing on residential cleaning, with commercial cleaning services not starting until 2006, after Gossic had left the business.
During the COVID-19 pandemic, many of Dirt Doctors' residential customers discontinued their service, and were slow to return. By the summer of 2020, the business was down around 60% in terms of residential clients.
Faced with a crisis, Maloney made the decision to focus on maintaining the relationships with the clients Dirt Doctors still had, putting a pause on growth to maintain the status quo.
However, he also saw significant growth in the number of commercial clients toward the end of 2021. When he spoke to the Chronicle, Maloney said 80% of Dirt Doctors' clients were commercial, and only 20% residential, with an eye toward growing further in the future.
June: Makeshift community bike repair project building steam in Pittsburgh's Northside
Riding bikes in the summer is a common and popular pastime. As such, it seems very appropriate that the most popular article for the first month of summer was all about bikes, or at least how to repair them.
In June, The Chronicle featured Makeshift, a community bike project which focuses on the art of bicycle repair and do-it-yourself projects.
"Our motto is 'making it better than it was,'" Makeshift founder Aryn Gaslowitz told The Chronicle.
Started in 2016 in Perry Hilltop, the group shares bike tools, teaches basic bike maintenance and offers donation-based repair services. They moved to a pop-up at the Northside Farmers Market in Allegheny Commons Park in 2019, and eventually to a garage space at Hip at the Flashlight Factory in Allegheny West.
Gaslowitz was inspired to start the group after volunteering at Free Ride, a collective of bike enthusiasts in Pittsburgh's Point Breeze area. She wanted to provide a place for Northsiders to get their bikes repaired that was closer to home.
"Having more bikes on the road makes it safer for everyone," Gaslowitz said. "Comfort on the road as bicyclists is key."
July: First in-person CCAC graduation since 2019 held at Heinz Field
In-person graduations were one of the many public events which fell victim to the COVID-19 pandemic, with many of them moved to remote methods in order to recreate one of the most important times in a student's life.
After a two-year hiatus, the Community College of Allegheny County (CCAC) was able to revive this tradition, holding its commencement ceremony on May 19 at then-Heinz Field.
The event saw 2,858 candidates for graduation, receiving diplomas across nearly 150 programs.
In addition, a separate nursing pinning ceremony was held at the field involving 334 nursing program graduates.
August: Northsider recognized for outstanding work in animal welfare
In 2021, cat declawing was banned in the City of Pittsburgh, in part thanks to the work of Tara Czekaj of Brighton Heights. In 2022, she was recognized for her effort, receiving The Humane Society of the United States Pennsylvania Humane Policy Leader of the Year award.
An animal rights activist, Czekaj meets with local, state and federal leaders to get them to pass laws protecting many kinds of animals.
"The act of declawing is actually an amputation," Czekaj told The Chronicle. "A lot of people don't realize that. They think it's a nail removal or trim."
The declawing ban was introduced by Pittsburgh City Councilman Bobby Wilson, who represents the Northside, and was passed unanimously by council. It made Pittsburgh the first Pennsylvanian city to ban the practice of declawing, though the city of Allentown has since joined in the ban.
Czekaj said receiving the award was a total surprise to her. However, even with the accomplishment, she said there was still more legislation in the works and more to be done to protect animals.
September: Corey Carrington takes on new job managing art, culture
As part of The Chronicle's series, Northsiders on the Move, we spoke with Corey Carrington on his new position as Cultural and Main Street Manager for the Hill Community Development Corporation.
As it turns out, you readers were just as interested in Carrington's new job as we were.
Carrington's position means he is in charge of managing the artistic and cultural initiatives in the Hill District, specifically along Centre Avenue.
"Basically I'm doing art-based community development in the central Centre Avenue corridor," Carrington said.
As one of Pittsburgh's historically Black neighborhoods, the Hill District has a long history with many cultural developments, such as the displacement caused by the construction of the Civic Arena for the Pittsburgh Penguins.
Carrington said the job appealed to him due to his prior interest in community development and politics. He saw it as a way to channel his artistic talents "into something bigger than art."
"If we embrace the diversity that is in Pittsburgh and we give the resources to the right people and connect people to the right opportunities, I believe that Pittsburgh can and will be truly a city that's livable for all people," he said.
October: 5 Northside Halloween events
Our readers seem to really enjoy getting into the Halloween spirit, as our most popular article for the spookiest month of the year was a list of several fun events for the holiday.
Whether it was Fright Nights at Anderson Manor or the Halloween parades in Brighton Heights and Spring Hill, Northsiders were interested in every opportunity they could get to wear costumes, visit haunted houses or listen to ghost stories.
Well don't fret dear readers. We here at The Chronicle love Halloween too, so expect more of these kinds of articles in the future.
November: Catching up with the new principals
The 2022-23 school year saw some big changes for Pittsburgh Public Schools on the Northside. Pittsburgh Morrow PreK-8, Pittsburgh Allegheny K-5 and Perry Traditional Academy all received new principals.
In November, we spoke with these new principals, delving into their backgrounds and plans for the future.
Carl Watson, Pittsburgh Morrow's new principal, discussed his goal of turning his school into a "neighborhood magnet school," one that would draw kids from all over the city. Meanwhile, Michael Barbone revealed how his background as a music teacher was especially important to becoming principal of Pittsburgh Allegheny, as the school has a "strong music program."
The final principal, Molly O'Malley-Argueta, was the only one who had been a principal beforehand, previously serving at Pittsburgh Allegheny for 12 years. Having to meet a whole new group of students was one of her biggest challenges in the new role.
"I think walking into the school and not knowing the students' names, that bugs me," she told The Chronicle.
December: Northside benefits from RACP funds
Finishing out the year was some good news for the Northside, as many local projects benefitted from Pennsylvania's Redevelopment Assistance Capital Program (RACP).
The grants, administered by the Pennsylvania Office of the Budget, ranged from $500,000 to $10 million in local funding, helping groups like the Allegheny YMCA, The National Aviary and the Urban Impact Foundation, among many others.
The Allegheny YMCA is eyeing to use their $2 million grant to help out with a major "top to bottom renovation" of their 97-year-old building, according to Carolyn Grady, chief development officer for the YMCA of Greater Pittsburgh.
The largest project awarded in the Northside was a $10 million grant to Piatt Companies for their Esplanade development, a planned riverfront recreational complex which will include bringing a Ferris wheel to the Northside.
With that the Year in Review comes to an end. With a new year comes new stories to tell. Let's find out which ones prove to be the most popular in the year 2023.