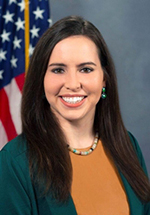 Elected Officials
December 22, 2022
District 20 News from Rep. Emily Kinkead: Dec. 2022
Democrats win thin majority in PA House
Photo: Office of Rep. Kinkead
Democrats in the Pennsylvania House of Representatives appear to have turned 16 seats across Pennsylvania from Republican to Democratic control. With four seats previously held by Democrats now slated to be represented by Republicans, Democrats will have taken the net 12 seats necessary to secure a majority for the first time in more than a decade.
While only a one-seat majority — 102 Democrats to 101 Republicans — the shift in power will likely have a major impact on how legislation moves through the General Assembly. Democratic-led bills to create better jobs, better schools and better communities in Allegheny County and throughout the Commonwealth now stand a much greater chance of passing through the House in the 2023-24 legislative session.
In the 2021-2022 Session, just three bills sponsored by Democrats were passed through both chambers to become law. That kind of partisan disenfranchisement means that though millions of Pennsylvanians chose to be represented in our General Assembly by Democrats, their voices were utterly silenced when it came to actually affecting policy and laws in our Commonwealth.
The state Senate, however, remains under a Republican majority — 28 Republicans to 22 Democrats — so partisan gridlock within the legislature is likely far from over. The main thing that will change under a Democratic majority in the House is that Democratic-sponsored bills will finally receive the consideration in committee that they deserve. And with a Democrat in the governor's mansion, we are in a much better position to negotiate past partisanship to pass bills that will provide meaningful change for all Pennsylvanians.
The process of a bill becoming law in Pennsylvania involves many steps. It can be a long and quite complicated process but constituents' ideas and feedback often have a significant impact on new laws, so it's very important that members of the public understand the process.
Once a bill is introduced, it is then assigned to a committee where members of that committee will vote on whether to advance the bill to the House chamber. But not all bills receive a vote in committee.
After a bill is assigned to a committee, the majority chair of that committee has the sole authority over which bills get brought up for a vote. This is why almost zero Democratic bills moved out of a committee under a Republican majority in the House.
Under a Democratic majority, the majority chairperson of each House committee would be a Democrat. No longer will bills that address common sense topics like safe nurse staffing levels, LGBTQIA+ rights, gun safety, voting rights and more be summarily ignored despite broad support from our Pennsylvania residents. If these bills are voted through committee, we will finally be able to get members of the General Assembly on record as supporting or opposing for all Pennsylvanians to see.
One bill that I'm particularly excited to see move under the new majority is my bill to create a new insurance program for property owners living in landslide-prone areas, of which there are many in Allegheny County. The bill would add coverage of landslides, slope movement and sinkholes to an existing program in the Pennsylvania Department of Environmental Protection that currently covers only mine subsidence assistance and insurance.
Previous versions of this legislation, including a bill I introduced last year, are prime examples of Democratic bills that have languished in committee with no "political will" to help Pennsylvanians with nowhere else to turn. I recently worked with Rep. Valerie Gaydos (R-Allegheny) to update and streamline the proposed program and re-introduced it as a new, bipartisan bill that will help Pennsylvanians avoid financial ruin through freak acts of nature.
Seeing that this bill becomes law will be one of my top priorities in the 2023-24 legislative session, and I am looking forward to making it happen under a new Democratic House majority.
My district office recently relocated to Bellevue and the new address is 658 Lincoln Ave., Pittsburgh, PA 15202. Stop by and see us, call my office at (412) 321-5523 or email me at RepKinkead@pahouse.net . My team and I are here to help you!