Two new affordable housing units now available in Northside's Fineview neighborhood
A ribbon-cutting at 9 and 21 Lanark Street in Fineview marked another step toward keeping the Northside an affordable place to call home.
By: Anthony John Wiles Jr.
Photo: Elected officials and community representatives joined Mayor Bill Peduto on Feb. 5 for a ribbon cutting ceremony to celebrate the opening of two newly renovated affordable housing units: 9 and 21 Lanark St. in Fineview. Courtesy of Joanna Deming
On Feb. 5, 2021, citizens of Fineview and Pittsburgh's Northside, and the city as a whole celebrated the ribbon-cutting for the opening of two newly renovated affordable housing units. Located at 9 and 21 Lanark Street in Fineview, these two single-family homes are three bedrooms each with spacious yards and newly renovated interiors and exteriors. 
This project was funded by the Urban Redevelopment Authority (URA) of Pittsburgh, as well as loans and grants provided by organizations such as UPMC Health Plan and Dollar Bank, and contributions from groups such as the Northside Community Development Fund (NSCDF) and Allegheny County's Community Infrastructure and Tourism Program. Other supporters include One Northside, the Hillman Foundation, and Neighborhood Allies.
Attended by community and City of Pittsburgh leaders such as Mayor Bill Peduto and District 1 City Councilman Bobby Wilson, the ribbon-cutting was held amidst COVID-19 restrictions, in both virtual and in-person formats. Despite this, the accomplishment of years of organizing, fundraising, and construction was finally realized.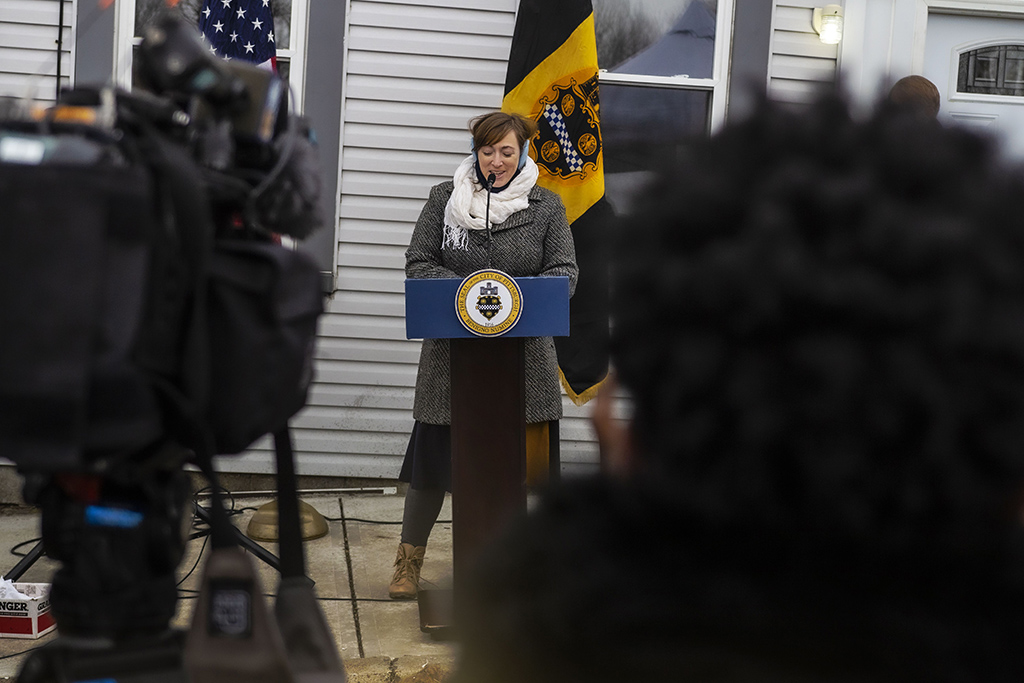 ---
"It took about a year to fundraise and four to six months to renovate them," said Joanna Deming, executive director of the Fineview Citizens Council (FCC) and Perry Hilltop Citizens Council (PHCC). In addition to community and business fundraising, the URA provided a blanket grant of $90,000 in 2010, followed up in 2020 with $112,790 for the development of 9 Lanark Street.
During the ribbon-cutting, Councilman Wilson stated, "We could not be more grateful for the tireless dedication that the Perry Hilltop and Fineview Citizens Councils bring to their work serving their communities. To go from a volunteer board to an organization with staff and two major renovations in just a few years is very impressive. Thank you for working diligently to beautify your community and bringing more affordable housing to the Northside."
With the growing gentrification of several city neighborhoods, including East Liberty, the North Shore, and the Mexican War Streets, affordable housing has become scarcer within the city—a problem felt acutely on the Northside, particularly for marginalized communities.
"Over the last decade, we have watched areas of the city and the lower Northside become unaffordable. The result has been the displacement of residents of color," said Deming. "We are committed to preserving the diversity and affordability of our community and these homes are just the beginning of how we will make that vision a reality."
"This project is an excellent example of how our residents and community partners can work directly with our government partners towards our shared vision to develop accessible housing and maintain affordability so that our residents can stay in the neighborhoods they call home," said Mayor Peduto, according to a press release. 
When asked if more of these types of affordable homes will be available in the future, Deming eagerly responded, "Yes, definitely."
According to Deming, the homes at Lanark Street are one of several initiatives to provide affordable housing to Northside communities. Currently, she said that FCC and PHCC are working on renovating five to six more homes on Lanark Street, in order to sell them to local residents at an affordable rate.
---
Deming said Northside residents can look forward to further future developments because the FCC along with the Housing Authority of the City of Pittsburgh were selected for a Choice Neighborhoods Planning Grant from the U.S. Department of Housing and Urban Development. "FCC, Housing Authority of the City of Pittsburgh, Allegheny Dwellings Tenant Council, and other key stakeholders are working on creating a Transformation Plan," she said. 
In the meantime, applicants can rent out the homes at Lanark Street, if they have an income that is 60% or less than the area median income (AMI). "The rent is $1,230 and will need to be rented out to a family of four [with an AMI] under $49,800 or a family of three under $44,820," said Deming. Prospective tenants can also use Housing Choice Vouchers (HVCs) which are provided via the Housing Authority of the City of Pittsburgh. However, Deming mentioned that there is often a waiting list for these vouchers.
In looking for the best renters for the Lanark Street homes, Deming said, "We've been sharing the opportunity via e-blast, social media, and posting flyers in the community. We will be looking for tenants with strong references."
For more information about affordable housing and upcoming projects, check the websites of both FCC and PHCC. Deming can also be contacted at joanna@ourfuturehilltop.org or via phone: 412-206-9402.