Allegheny City Central, Allegheny West, Brighton Heights, California-Kirkbride, Central Northside, Charles Street Valley, Chateau, Coronavirus, East Deutschtown and Spring Garden, Fineview, Historic Deutschtown, Latest Northside News, Manchester, Marshall-Shadeland, Mexican War Streets, North Shore, Northview Heights, Observatory Hill, Perry Hilltop, Politicians, Sponsored Content, Spring Garden, Spring Hill, Summer Hill and Northview Heights, Troy Hill
Decennial 2020 Census closes early, September 30 last day to respond and record your history
By Lauren Stauffer
Census takers are hitting the streets door knocking to follow up with households that have not responded to the 2020 Census. They're in a rush to meet the new, pandemic-altered deadline of September 30 instead of the original pandemic-altered deadline of October 31.
It is projected that every person not counted can equal as much as $20,000 of federal funding lost over the next 10 years.
Residents, non-profits, church organizations, and community groups are encouraged to help with the final push in the next two weeks to count as many Northside households as possible. This will ensure that appropriate federal funding and political representation in the House of Representatives is apportioned.
Read more about the history of the decennial census and how the pandemic has changed it's course in 2020, originally published in August of 2020, here.
The Center for Urban Research (CUR) at the City University of New York's Mapping Service is providing important census tract information for multiple agencies working with the U.S. Census Bureau to count every household at censushardtocountmaps2020.us.
CUR identifies hard-to-count (HTC) census tracts as having 73% or less of households who self-responded in the 2010 decennial census. Identifying those households who are HTC determines where census takers will focus on door-knocking to follow up with nonresponsive addresses.
Below is a page from a specialty insert within the September newspaper of The Northside Chronicle that shows the self-responding households before "non-responsive followup" (NRFU), after, and in comparison to 2010 response rates as of August 18, 2020.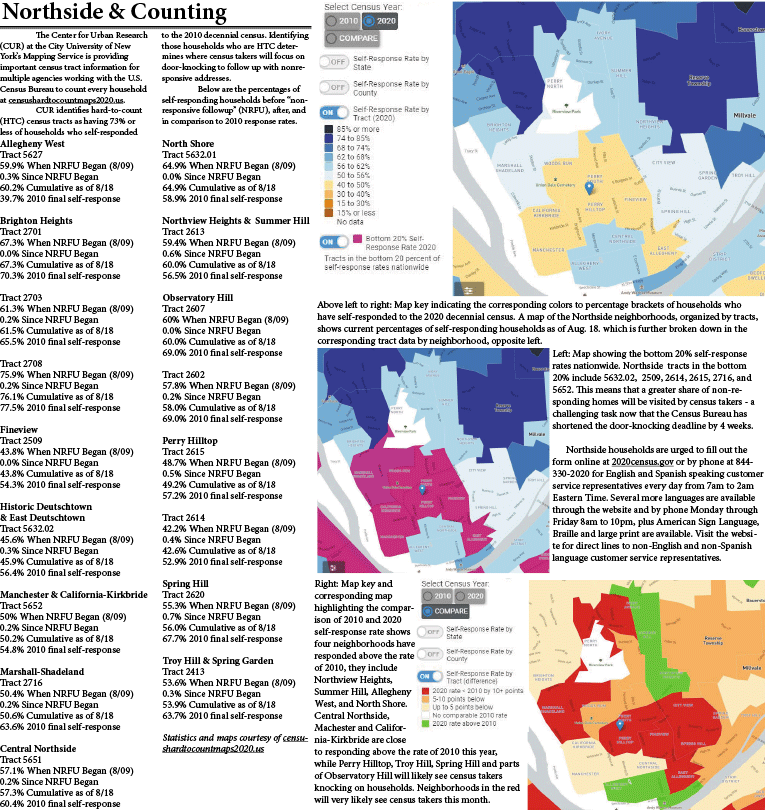 Within a month, a majority of census tracts in the Northside neighborhoods that were under a 50% response have increaded their rate to over 50%. Parts of Perry Hilltop, Fineview, and East Deutschtown are still under the 50% threshold. The average Pennsylvania household response rate is 65.5%.
In a live online presentation with the U.S. Census Bureau's Chief Historian, Sharon Lacey, Ph.D., on September 15, 2020 a more extensive history of the U.S. Decennial Census and it's transformation its since inception in 1790 was covered for representatives working with the Census Bureau to enumerate every home.

Dr. Lacey noted that the only time the decennial census was unable to be used to appropriately reapportion federal funds and elected representatives was in 1920 due to a "…battle between rural and urban representatives" that delayed the legislation for fear that "rural districts would lose political power to cities". A further overview of the 1920 Decennial Census and others since 1790 can be found at census.gov/history/www/through_the_decades.
In the 230-year history of the U.S. Census, questions regarding religion and legal status have never been asked of residents. Though criteria has vastly changed, even within the last 60 years, the information collected has been processed and analyzed to develop a picture of the people, where they were at the time and where they might go, to build their homes and lives. This determines where funding for schools, employment, family services, healthcare, public safety, infrastructure, business development and other areas is allocated.
In 1840, the census began collecting data on the deaf as public schools were developing in the country. A need to assist those with disabilities was present, and transformed the questionnaire to develop plans to fund special needs schools. Famous inventor and first to patent the Telephone in 1870, Alexander G. Bell, was appointed as "Expert Special Agent of the Census Office, for the preparation of the Report on the Deaf and the Blind" in 1900 to help residents with these disabilities be counted by changing the way the questions were asked to provide dignity to the respondents and/or their loved ones in the home, training other deaf residents as enumerators, and setting up the most comprehensive model of inclusion for future censuses.
Another interesting fact about Bell's influence on the U.S. Census is that his patent of the telephone in 1876 increased the ability for enumerators to contact homes by calling, rather than going in person, which exponentially increased over the decades. For more history specific to Alexander G. Bell's influence on the census, visit www.census.gov/history/pdf/agbellarticle-32017.pdf.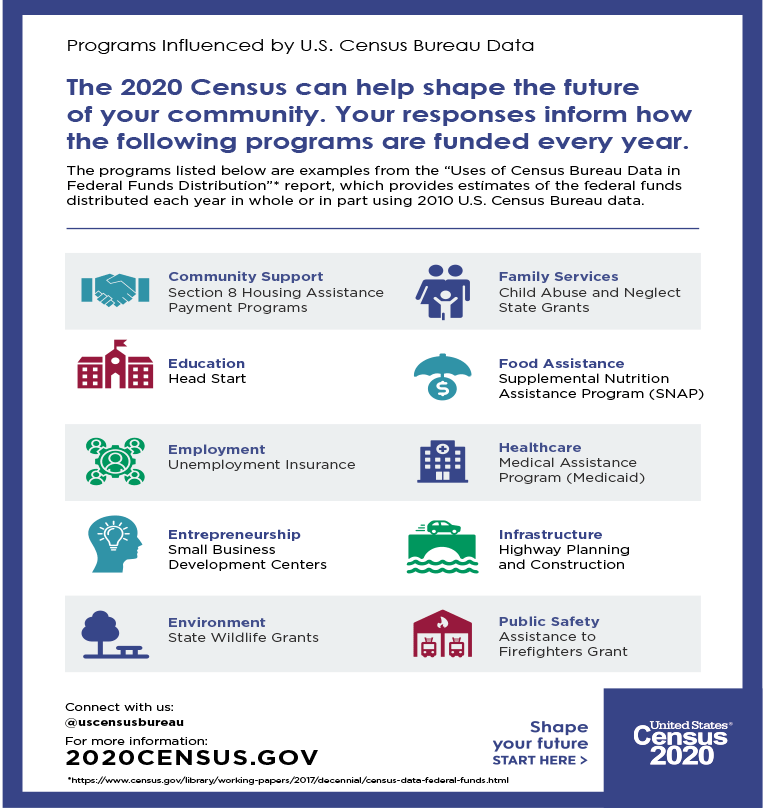 With a wide range of personal information being collected by the U.S. Census Bureau each decade, the historic paper documents and today's digital documents, are archived by another department for posterity and privacy at the National Archive and Records Administration. Any personally identifiable information collected in the census is not shared publicly, or with any other agency, for 72 years. Currently, the earliest that any historical census documents can be searched in the archives is 1940. The Bureau also showcases famous and infamous signatures of persons on their website, from Martin Luther King to John Wilkes Booth, here.
Genealogists and similar businesses, like the popular website ancestry.com, use historical census records to trace family trees. In addition to collecting demographics on an individual level to count populations every 10 years, the Census Bureau also collects economic information from small businesses to entire industries every five years to analyze the nation's performance and impact. The next economic census will occur in 2022.
A month after many states began to shelter in place due to the novel coronavirus outbreak, the Census Bureau and Congress announced in April that the original 2020 Census deadline of July 31 would be extended to October 31 to make up for the set backs in field operations caused by the pandemic. However, the Census Bureau announced in August it would close the census deadline early on September 30. Since that last minute schedule change under the current administration, civil rights groups, cities, counties, and others have filed suits in federal court to overrule the discontinuation of field operations and abandon the earlier deadline in an effort to ensure accurate counts by census takers.
As reported by the National Public Radio (NPR) on September 8th, a federal judge in California issued a temporary restraining order against the Census Bureau from releasing field workers early as the federal lawsuit waits to be decided on Thursday, September 17. In Maryland, a virtual hearing on September 21 will address the state's coalition challengers in barring the early deadline. It is unclear whether any coalition or government body in Allegheny County or Pittsburgh has filed a federal lawsuit to halt the state's Census Bureau field offices from adhering to the September 30 deadline.
In addition to census takers visiting non-responsive homes in person, households can complete the 2020 Census online at my2020census.gov before the deadline. For those with limited internet, the two Northside branches of the Carnegie Library are now open for public computer use again. They are first come, first serve for 30-minute sessions or can be reserved for up to one hour. Call to reserve at Allegheny 412.237.1890 or Woods Run 412.761.3730.
Traditional telephone completion is also available at 844-330-2020 and for additional languages, visit www.pa.gov/census/how-when-to-respond.
This article is sponsored by a grant from the Pennsylvania Department of Community and Economic Development.