Arts + Culture, Coronavirus, Editor Picks, Features, Latest Northside News
Northside business models adapt in the face of COVID-19
Despite the challenges Northside businesses have undertaken since the outbreak of the COVID-19 pandemic, owners remain positive and resilient. Here are some innovative ways owners are adapting their business models to meet the needs of their staff, customers, and community.
By Mario Cosentino and Jazmine Ramsey
Photo: City Books is one of the many small businesses throughout Pittsburgh's Northside that is implementing creating business strategies to stay afloat in the time of COVID-19. Courtesy of City Books
Badamo's Pizza
COVID-19 did not cause a large negative impact to the business end of Pittsburgh pizza shop Badamo's. However, the pandemic did have an effect on the shop's employees. 
"It obviously was a huge hit," owner Anthony Badamo said. "We lost probably half of our employees, just people who were questioning coming out of the house and working during the pandemic."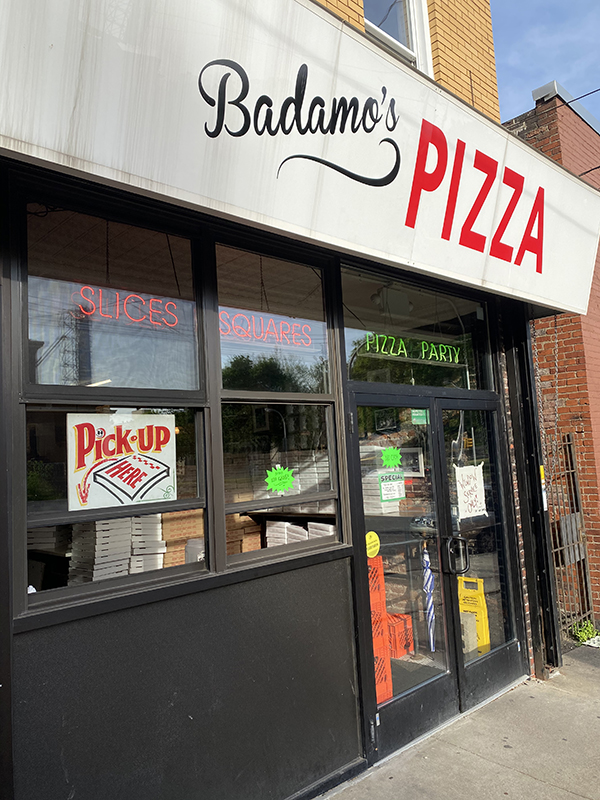 ---
Both the Northside and Mt. Lebanon locations are now operating with a "smaller crew," and they've changed their business hours by closing on Mondays, closing the shop earlier (they are now open from 11 a.m. to 9 p.m.) and offering takeout and delivery options through DoorDash and other delivery services. 
To help with social distancing protocols, take-out windows were installed in front of each location, allowing workers to serve their customers directly. Customers can play it extra safe by ordering their meals online. – J.R.
Scratch Food and Beverage
No longer functioning as a traditional restaurant, Scratch Food and Beverage (F&B) in Troy Hill has instead become a marketplace. The goal: to better provide for the needs of their customers and surrounding community. 
Online ordering is available for delivery and takeout food, including crockpot meal kits similar to HelloFresh, and basic grocery items. They're also providing for non-food needs through the sale of personal care and general cleaning products.
Scratch's outreach even extends beyond its customer base through partnerships with local nonprofits such as the Allegheny YMCA on West North Avenue. Scratch F&B has helped provide meals every week for the 90 men in the YMCA's residential program.
Owner Don Mahaney says that he plans to retain relationships with nonprofits and will continue to provide for the Northside as long as his and his restaurant's services are needed. 
"We need to be ready to meet the community's needs where they are," says Mahaney. "I think that having that litany of menu items available is one of the ways we can do so." – M.C.
Happy Day Dessert Factory
Opening a new business is hard enough, but doing it during a pandemic is a whole different story. Happy Day Dessert Factory was originally scheduled to open in March of this year, but due to Gov. Tom Wolf's shelter-in-place orders, the store began operating as takeout only, with delivery services available through DoorDash.
Despite having a grand opening during a pandemic, business is going well for the shop. According to owner Galen Moorer Jr., Happy Day hasn't seen a slow period since it first opened. – J.R.
Mike's Beer Bar
In the months before restaurants were closed and sheltering in place began, Mike's Beer Bar on the North Shore was the site and sponsor of a weekly video series called "Sports on Tap." 
It was a segment where two representatives from DK Sports, a sports news site started by journalist Dejan Kovacevic, drank a flight of beer and talked about Pittsburgh sports. 
DK Sports and Mike's Beer Bar, businesses that both rely heavily on sports for their customer base, wanted to continue entertaining and engaging their audience, even with bars closed and sports on pause. That's when they came up with the "Virtual Happy Hour." 
---
Virtual Happy Hour is a sports talk show hosted by DK Sports and Mike's Beer Bar. It's streamed live on Facebook every Friday evening around 5:30 p.m.  Pretty soon, they hope to stream on Twitter. So far, the response has been pretty positive.
"You don't have to go anywhere, you still get to crack open a cold beer on a Friday, and the numbers have proven that people are watching and participating," said Hunter Homistek of DK Sports. – M.C.
Carmi Express
Carmi Express owner Carleen King didn't realize she'd be opening the shop's Northside location in the middle of a pandemic. Luckily, the new spot, located on Federal Street, was always intended to be a strictly takeout-only location.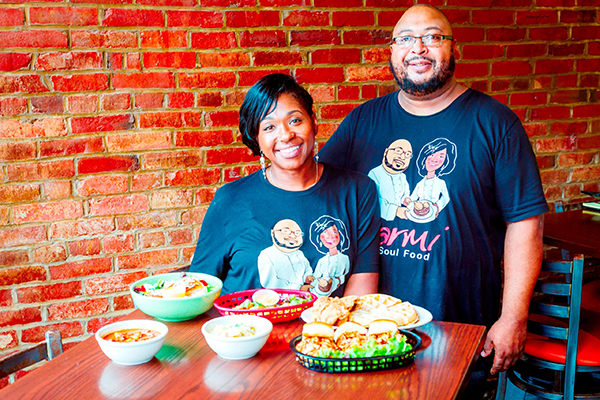 ---
According to King, the main location, which started in the Northside and then relocated to the Southside in February of 2018, is down 75% in sales volume. Due to the low volume of customers in the morning and afternoon, brunch has been temporarily removed from the menu. Still, King remains grateful.
"It's been a blessing trying to get these things to work out." – J.R.
Max's Allegheny Tavern
Max's Allegheny Tavern is helping out some of its customers by putting a pay-it-forward policy in place. The idea was suggested by a regular customer who saw a similar system in action at a bowling alley in Youngstown, Ohio.
Here's how it works: A customer or friend of the restaurant donates $100. That money covers the price of 10 menu items. The next day, the first 10 callers that phone in and place an order get one menu item free.
"And if someone needs more than that, they're having trouble, they can ask us and we'll give them more of that," said owner Doug Deigelman. – M.C.
The Government Center
With recent Pittsburgh record store closures such as Juke Records in Bloomfield and Dave's Music Mine in the Southside, vinyl lovers have been rallying for The Government Center on East Ohio Street, even before the pandemic hit.
Opened by owner Josh Cozby in January of 2019, the record store was making a name for itself with its regular live, in-store shows. It's recently turned to Instagram Live to allow local musicians to perform their sets virtually, and has added online sales, shipping and delivering store merchandise to their local customers. – J.R.
Mayfly Market
Mayfly Market partnered with fellow Northside business Refucilo Winery to make specialty Mother's Day gift baskets. Each basket featured a meal, a bottle of wine, and a bouquet of flowers. The Roots Cellar in Shadyside contributed flowers and muffins for the baskets. According to Owner Ann Gilligan, the concept was put into place to make things easier for her customers.
"… We were assuming that people are not able to run out to every different store [that]  maybe they would have [been able to] before," said Gilligan.
Wine isn't something Mayfly usually offers at the store, so naturally, Gilligan knew it was a perfect addition for the baskets.
The basket concept was such a success that for Memorial Day, Mayfly offered customers a "picnic in a basket" option, and Gilligan  is entertaining the idea of working with other Northside businesses again in the future. – M.C.
City Books
Owner of the Northside independent bookstore City Books, Arlan Hess, knows that there's creativity in collaboration.
That's why she teamed up with North Ave Candles ("Clever Candles for Literature Lovers"), Leaf & Twig teas and tisanes, and theBird+theBeard custom invitations and stationary to create care packages for this past Mother's Day. The packages included two candles, two artisanal tea blend samples, a "Blind Date with a Book," or mystery "grab bag" book,  and a library-themed  checkout bookmark. 
Hess also teamed up with Daniel Parente, owner of the Lawrenceville-based Revival Print Co., to create limited-edition quarantine-themed t-shirts for City Books. The shirts can be ordered on pghtees.com.
"The community's been great. People have been getting gift certificates from us, they have been buying our customer loyalty plan, but the most success that City Books has had through all of this is when we have coordinated and partnered with other local businesses. Those relationships are sustainable," Hess said. "I think it's great to have the public working together but it's also really good to have local businesses working together because we're safer together." – J.R.
Bistro To Go
The transition to a solely take-out model is difficult for some restaurants, but for Bistro To Go, it was an opportunity to go back to their roots. Bistro To Go is best known for their catering services, but as the name suggests they actually started as a take-out restaurant. Chef Kate Kobylinski of Bistro To Go explained that because of this, the transition to a takeout-only business model was fairly easy.
"The biggest complication we had was some of our packaging… [There were] very little differences to bring us over to a completely takeout concept."
She also stressed the importance of the need for cleanliness and said it's "an overriding factor in how people view takeout now." – M.C.
Mana Boardgame Tavern
The owners of Mana Boardgame Tavern, Shannon and Vince Ebbitt, take fun—and cleanliness—seriously. 
They opened their doors last fall, but since the pandemic first struck Pittsburgh, have begun renting out their more than 250 board games. They're now open one day a week for rentals and take-out beer, and have also adopted a disinfection process for each board game that is returned.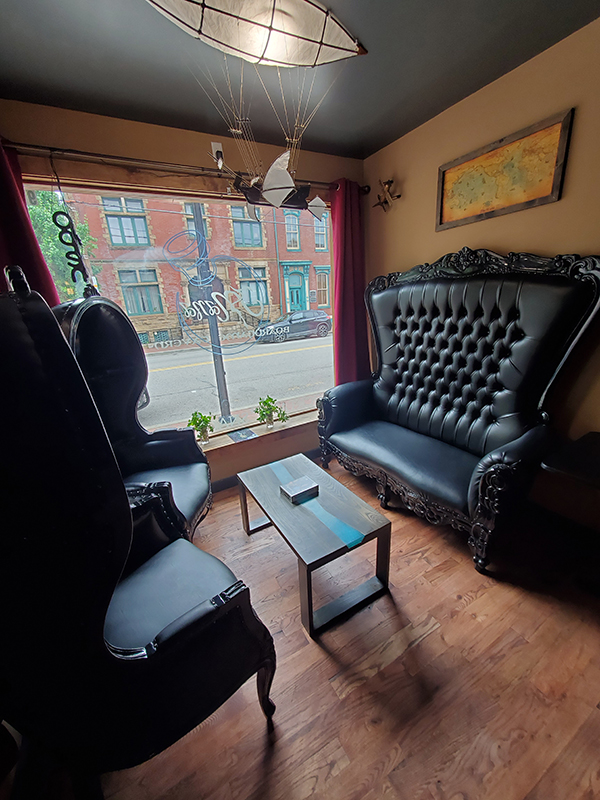 ---
"…When they're returned, we put them into steel containers and we just leave them quarantined separate from everything else for a week, because the coronavirus lives for three days on any of the surfaces: 23 hours on cardboard and three days on plastics," Shannon Ebbitt said. This sanitization process may allow the virus to die out before the games could be rented out again. – J.R.