Arts + Culture, Editor Picks, Event Coverage, Historic Deutschtown
Fans honor Mac Miller in Pittsburgh's Northside
Local and out-of-state fans of the late rapper Mac Miller gathered in Historic Deutschtown in Pittsburgh's Northside for the weekend-long "Circles: Til Infinity," a pop-up multimedia exhibition and listening party.
Photo: Mac Miller fans settle into a renovated former blacksmith's horseshoeing shop on Middle Street on the evening of Friday, Jan. 17 for an immersive listening experience of the late rapper's posthumous album, "Circles." By Ashlee Green
By Janine Faust
In a small, softly lit room at 900 Middle St., 15 people sat silently on bean bag chairs and soft couches, heads bobbing, feet tapping. Some cried, while others sat back with their eyes closed. In the center of their circle, music floated out of an Amazon Echo.
"Good news, good news, good news / That's all they wanna hear / No, they don't like it when I'm down," sang the late Malcolm McCormick, better known by his stage name Mac Miller.
The lyrics were from "Good News," one of 12 tracks on the rapper's posthumous album, "Circles." McCormick, a Pittsburgh native who died in 2018 at age 26, had gained fame for his genre-bending music style and engaging lyrics. On Jan. 8, McCormick's family announced on Instagram that they would release "Circles," which he had been working on before his death.
Close to 2,000 people came out to the Northside between Friday, Jan. 17 and Saturday, Jan. 18 to attend "Circles: Til Infinity," an immersive listening experience and multimedia exhibition. The event was held to remember McCormick and honor his album's release at midnight on Jan. 17.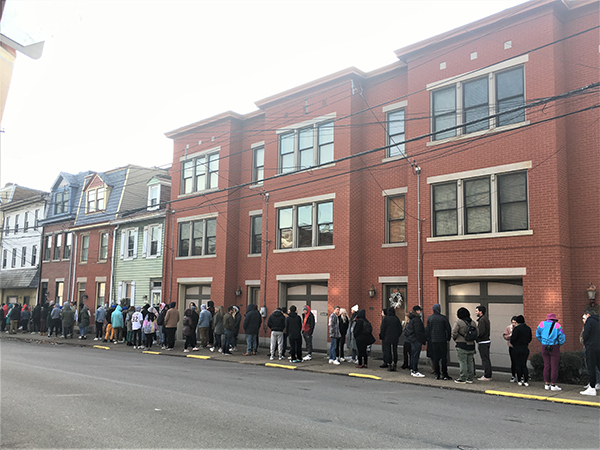 The event included a small gallery on Suismon Street, which hosted fan art and photographs of McCormick. Visitors could also purchase merchandise, with the proceeds going to the Mac Miller Fund to support young musicians.
Despite the cold, rain, and intermittent snow, people were already waiting in line for four hours before the noon openings, according to publicist Nick Dierl.
"The venue was at capacity from opening until closing each day with a constant line," Dierl said in a phone interview after the event.
Visitors who came into the gallery could pick up tickets to attend one of the scheduled listening experiences. On both days, tickets ran out within the first hour and a half, Dierl said.
Many fans in line on Friday night, including Pittsburghers Anna Ligorio and Hannah Voradram, arrived too late to get tickets. After stopping in the gallery to admire the pictures and purchase T-shirts, they planned to head straight home and listen to the album.
"It was cool to be in the gallery, though," Voradram said, noting it was an experience that could only happen once. "The people's artwork was really nice."
Inside a room on Middle Street, those who had arrived early enough to get tickets gathered to experience "Circles" together. An organizer reminded the group that McCormick had designed his albums to be listened to from start to finish. The recording the group was about to listen to included two deluxe edition bonus tracks, "Right" and "Floating."
No one spoke for the next 50 minutes. Couples and friends held hands or put their arms around each other as the album played.
"Where are you goin'? Can I come too? The whole world is open, a playground for me and you," Miller sang during "Surf."
After the final lyrics of "Floating" drifted off, the listeners thanked each other for being there. Some were Pittsburgh natives. Others had come all the way out from Arkansas, Ohio and Canada.
One listener, Pittsburgh resident Zach Tokosh, had not listened to the album beforehand, hoping to get something special out of hearing it with others.
"[I got] maybe some clarity on life," he said, wiping his eyes. "Sorry, I've got a lot of emotions."
Florida resident Kay Lockhart said she and her husband bought their plane tickets to Pittsburgh at noon the day before, and had already listened to the album in their hotel room.
"We waited 'til midnight for it to drop, then fell asleep listening to it," she said. "Then I woke up and showered listening to it."
She described the album as "perfect."
"Like closure," she said. "Absolutely beautiful."
Related posts:
Artist Jeremy Raymer paints new Mac Miller mural in prep for Northside listening party
Seth Rogen's film crew sets up at Max's in Northside