Punxsutawney Phil visits Threadbare Cider House before big day
The famous groundhog stopped in Spring Garden to help promote this year's specialty cider.
Photo: Phil poses for a picture with one of his handlers, AJ Dereume, and a guest. Courtesy of Threadbare Cider House
By Hallie Lauer
In preparation for the 134th Groundhog Day celebration, Threadbare Cider House in Spring Garden hosted Punxsutawney Phil, the famous groundhog, for Phil-a-Palooza on Saturday, Jan. 18. Threadbare hosted Phil twice previously for similar events.
The event was a release party for Threadbare's Phil's Burrow Cider; this year's flavor was rum-raisin. A small, limited batch of the cider is on sale until Groundhog Day, which falls on Feb. 2, or once they run out of it. A portion of cider sales goes to the Groundhog Club.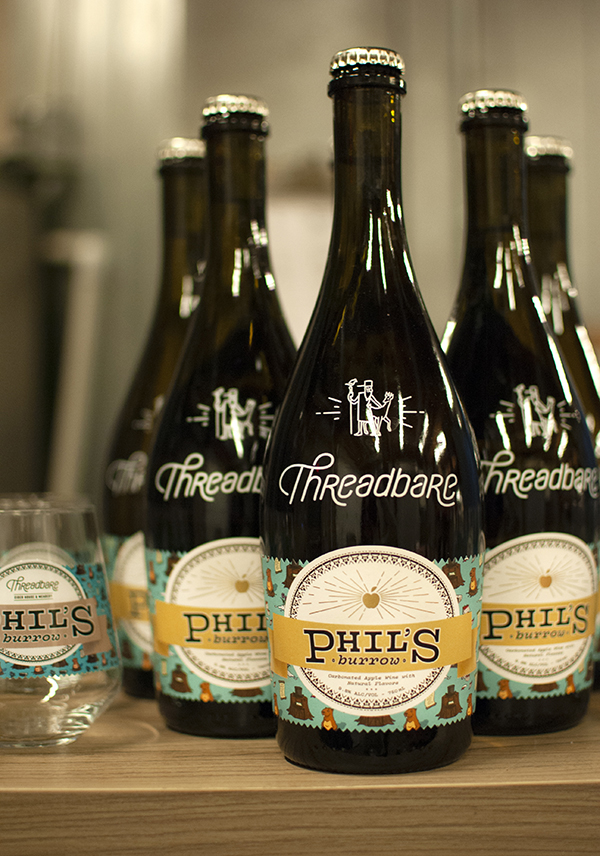 The Groundhog Club is an "inner circle" of local dignitaries that uphold the tradition of Groundhog's Day and plan the annual celebration in Punxsutawney, PA. They are also responsible for the care and keeping of Phil.
"[The Groundhog Club is] a great partner to work with," said Elise Miranda, event planner for Threadbare. "It's about being involved in the larger Pennsylvania community."
Traveling around the state, as it turns out, is a common occurrence for Phil the groundhog. Phil's handlers said that the hour and a half trip from Punxsutawney to Pittsburgh was a rather easy one, and Phil got to stay the night in the Downtown Omni William Penn Hotel.
Phil's handlers and members of the Groundhog Club were on-site to educate guests about groundhogs and the tradition of Groundhog's Day. They were also selling Groundhog Day merchandise. Some guests came prepared, wearing their own knit hats that looked like groundhog heads and sweatshirts with cartoon groundhogs on them.
"We went to Punxsutawney in 2002," one guest, Laura Romah, said. "This is a chance to see him up close."
Phil is a well-traveled groundhog, taking trips around the state and appearing in various parades throughout the summertime.
"I never knew Phil came to Pittsburgh," said Paula Mukherjee, another attendee of the event. "I just always thought he was hibernating, but he's out doing tours and selling cider."
Phil, unlike the common groundhog, doesn't partake in a traditional winter hibernation. Instead of packing on extra fat and sleeping through the winter, he lives relatively the same way as he does in the spring. Phil's version of hibernating is sleeping 12 to 15 hours a day, significantly more than he would in the warmer months.
The event was free to attend, with pay-as-you-go food and drink, as well as a coloring station for children to decorate their own 2D groundhogs. There was also a photo booth and an opportunity to take pictures with Phil himself.
Miranda said that Threadbare hopes to continue this tradition in the coming years.