Allegheny City Central, Archive, Central Northside, Mexican War Streets
From the Archive: Neighborhood Groups Picket Garden Theater
A front page story in February 1990 by The Northside Chronicle Managing Editor, John H. Lyon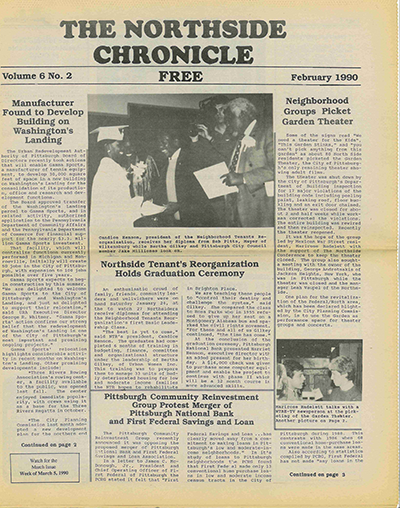 Some of the signs read "We need a theater for the Kids" "This Garden Stinks" and "you can't pick anything from this garden" as about 80 North Side residents picketed the Garden Theater, the City of Pittsburgh's only remaining theater showing adult films.
The theater was shut down by the city of Pittsburgh's Department of Building Inspections for 17 major violations of the building code including peeling paint, leaking roof, floor buckling and an exit door chained. The theater was closed for about 2 and half weeks while workman corrected the violations. The entire building was rewired and then re-inspected. Recently the theater reopened.
It was the hope of the group led by Mexican War Street resident, Marirose Radelett with the support of The Northside Conference to keep the theater closed. The group also sought a meeting with the owner of the building, George Androtsakis of Jackson Heights, New York, who was in Pittsburgh while the theater was closed and the manager Leah Vaupel of the Northside.
One plan for the revitalization of the Federal/North area, which has been declared blighted by the City Planning Commission, is to use the Garden as a performance space for theater groups and concerts.