Allegheny City Central, Briefs, Historic Deutschtown, Local Business, Spring Garden
Northside Business Briefs: June 2022
Stay up-to-date on what's coming, going, and changing in the Northside business community with The Northside Chronicle's monthly Northside Business Briefs. This month's briefs feature Gecko Robotics, Gus and Yia Yia's, The Garden Café, and California Coffee Bar.
By Ashlee Green
Photo: Karis Bowman will officially take over as the new owner of California Coffee Bar in Brighton Heights on June 1. Future plans for the shop, she says, include a paint job, new tables, and more community events. Courtesy of Karis Bowman
Gecko Robotics holds ribbon cutting for new Northside headquarters
Gecko Robotics, a close to 10-year-old company with a Pittsburgh office previously based in East Liberty, held a ribbon cutting on May 9 at their new headquarters in the Northside's Nova Place.
According to the Pittsburgh Business Times, the company—which previously laid off employees in its Houston and Pittsburgh offices in March 2020 due to the COVID-19 pandemic—is now expecting the staff to double from 200 to 400 people by mid-2023. 
The new 70,000-square-foot office space will serve partially as an R&D area for the company's robots, which are built to scale walls to inspect infrastructure, such as bridges, and oil, gas, and power sites, and report back with suggestions for maintenance and repairs. 
The buildout of Gecko's Nova Place space included a raised ceiling and the installation of new, special HVAC venting.
"Our vision for Nova Place is to build a world-class R&D environment that inspires innovation and customer service to the world's most critical industries," Gecko Co-Founder and CEO Jake Loosararian said in an article for the Pittsburgh Business Times. 
Gus and Yia Yia's ice ball stand open for the season
Spring is in the air, and Gus and Yia Yia's ice ball stand is open for business.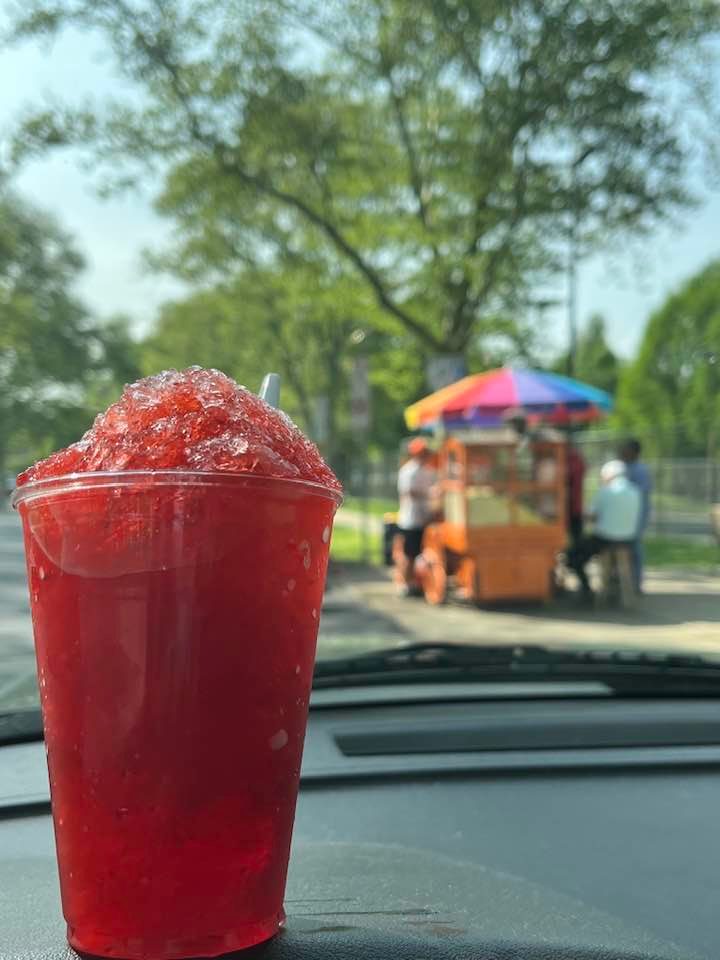 ---
Run by Gus Kalaris, who turned 90 years old in January, this Northside staple on wheels sets up shop next to the West Ohio Street tennis courts and serves flavored ice balls, popcorn, and peanuts. Kalaris inherited the stand from his father back in 1951. 
Find more information about Gus and Yia Yia's and post pictures of your visits to the stand on its Facebook page.
The Garden Café constructing 'community fridge'
You've seen mutual aid  "community fridges" in cities like Philadelphia, but now, Pittsburgh is catching on.
The Garden Café in East Deutschtown premiered the bones of an outdoor shelter for their community fridge on Facebook back in April. The structure includes storage shelves for dry goods. 
---
Community fridges—also termed "freedges"—are refrigerators housed in a public place for neighbors to give and take food for free. They aim to reduce food insecurity and food waste. According to a Feb. 2021 article by Vox, back in March 2020, there were just 12 community fridges across the U.S.; now, there are at least 160.
"We called our shop The Garden in part because of its location, but mostly because we wanted it to be a place where good things grow," the Facebook post reads.
"It makes us so happy to look at this [freedge] structure and know that it will be the home of something important, just like the building behind it is the home of our little café, and all the houses around us are the homes of our wonderful neighbors (and us)!
"This is our community. We believe in the goodness of this place, which is why we keep our fridge, our coffee shop, [and] our families here."
California Coffee Bar under new ownership
She's been working there for the past two and a half years, but on June 1, Karis Bowman will take on a new title as the owner of California Coffee Bar in Brighton Heights.
"I've been running the place for quite some time," she told The Northside Chronicle, explaining that she started as a barista in October of 2019 and was promoted to manager five months later—right in the midst of the COVID-19 pandemic. The business shut down for two and a half months, Bowman said, right after her promotion, and when it opened back up, she was in charge of navigating the pandemic-specific rules and regulations. 
She initiated the addition of online ordering and delivery options as well as contactless payment, which all paid off big time: Last spring, she said, the coffee shop was close to hitting double its normal sales. Cleaning lights, too, were installed in November of 2021, which Bowman said she thinks gave the spot an "upper hand" in terms of what patrons deemed a safe indoor dining experience. 
Prior to California Coffee Bar, Bowman was working as a math teacher at a small private school. She wanted to get out of teaching and do something different, she said, so she turned to Craigslist to find a job to pay the bills.
"I just kind of jumped right in and enjoyed making coffee for people and figuring out inventory, ringing people out on the register; making sure everything is in stock," she said. 
Customers have seen a lot of different owners come through the coffee shop, she said, and have told her that this is the best the place has ever been.
"It's been nice to hear from the community… I take that as really great feedback because I want [the shop] to be as good as possible," she said.
Future plans for the shop, Bowman said, include a paint job to "brighten up the place," new tables, and hosting more events. 
"I feel like it's a great space and it should be utilized more." She's grateful for the support of her customers and the surrounding community.
"Believe me, this wasn't something that was in my five to 10-year plan," she said. "This is something that was handed to me."