Northside's Fineview Field dedicated in honor of 'Coach Ken' Minton
The highlight of the fifth annual Kenneth Minton Memorial Softball Picnic was the unveiling of a new plaque in memoriam of the beloved Northsider.
By Ashlee Green
Photo: The "Minton Seven," as they're playfully called, gather at the fifth annual Kenneth Minton Memorial Softball Picnic to commemorate their father, the late Kenneth Minton Sr., former Northside Little League and baseball coach for 34 years. A new plaque was unveiled on the Fineview Field fence at this year's picnic to honor "Coach Ken" and his legacy. By Ashlee Green
Joe Valorie Sr. doesn't know for sure, but the team name 'Ken's Dragons' was likely inspired by the classic Bruce Lee film "Enter The Dragon." Kung fu was popular back then, in the 70s, and Ken Minton was getting his first-ever softball team together at the same time, so it must've seemed like a good fit.
This was back before the I-279 Expressway was constructed, splitting up Pittsburgh's Northside; back when, Valorie remembers, he and the other neighborhood children played on their original field on Madison Avenue.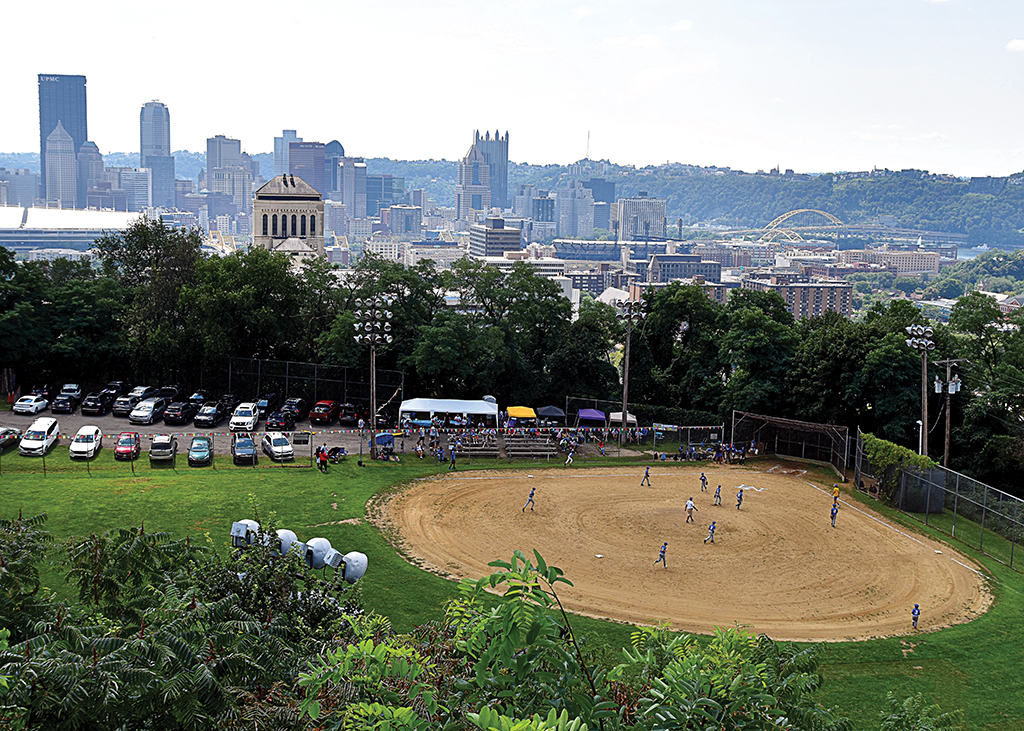 ---
"Years ago, we were just a bunch of kids that played softball unorganized," Valorie says. It was Minton who decided to coach the neighborhood children, then made and bought the group their own t-shirts, and with that, formed a team. 
"From that, it just evolved," Valorie says. "[Minton] worked full time, and in his spare time, we played softball."
"He was more than a coach, he was a father to a lot of kids, more than just his own," says Michael Smith, who also used to play for Minton. "He bent over backwards, he did extra things to make sure we made it to all of our games; bought us uniforms; did everything he could."
---
Valorie and Smith joined a crowd of family, community members, and Councilman Bobby Wilson on Sunday, Aug. 22 to dedicate and unveil a new plaque on the Fineview Field fence: The field will now be known as the "Kenneth W. 'Kenny' Minton Sr. Memorial Ballfield."
In addition to coaching for 34 years, Minton was the 23rd Ward Chairman for 24 years, a state constable for 26 years, an inspector in the Controller's Office for 11 years, and a City Council staff member for four years. He also worked in patient transport at Allegheny General Hospital and served in the Army. 
He died in 2015 and on June 6, 2016, Mayor Bill Peduto issued a proclamation declaring the day as "Kenny Minton Day." This year marked the fifth annual softball picnic in his honor.
"It's nice to have this every year; everybody keeps in touch," Smith says. 
---
Minton's wife Pam says the field was supposed to be renamed last year, but COVID-19 pushed it back.
"It's been a long five years and it's finally happening," she says. "[Minton's] big goal was always keeping kids off of the streets and keeping them busy in sports. It's a day to honor him and his legacy."
---
Minton's seven sons, known playfully as the "Minton Seven," all coach Little League or baseball themselves. In total, Pam says, there are now 32 grandchildren: 
"[Minton's] only missed the last four, and I know he's watching over them."