Editor Picks, Government, North Shore
Lt. Gov. John Fetterman speaks at annual NSCDF luncheon
Photo: Fetterman speaking at the Hyundai Club of PNC Park by HongChing Cheung
Fetterman detailed the difficulties that state convicts face in obtaining clemency.
By Amanda Andrews
Photos by HongChing Cheung
The Northside Community Development Fund (NSCDF) held its annual Community and Business Luncheon on Nov. 13 at the Hyundai Club of PNC Park. Lieutenant Governor John Fetterman was the keynote speaker.

Fetterman is a Democrat working alongside fellow Democratic Governor Tom Wolf. Fetterman is known for pushing progressive policies, such as the topic he chose for the luncheon: the difficulties state convicts face in obtaining clemency.

The clemency process involves pardons and commutations. Pardons and commutations grant convicts an opportunity to clear part or all of their record, depending on which kind of clemency they receive. A pardon is often the desired option for those who have been convicted because it makes it possible to have a criminal record expunged. A commutation means that a person's sentence can be partially or completely reduced but it leaves no possibility for it to be taken off of someone's record.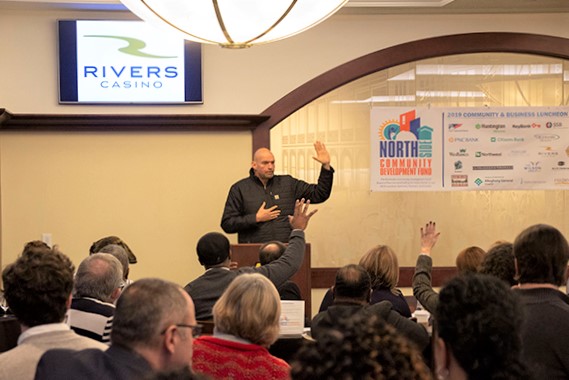 Many employers will require that hirees list if they have been convicted of a felony. This is part of why Fetterman is so passionate about reforming the process to prevent "perpetual punishment."

"…It's critical to allow people the opportunity for that second chance to be a better parent, to be a better businessperson, to be able to serve their community as a public elected official, to be on your kid's PTA, whatever it is," said Fetterman in his speech.

The Lieutenant Governor mentioned that he has employed two people who were both once condemned to life in prison, then pardoned by the system. Fetterman claimed that under his leadership and Wolf's, the time for processing pardons went down from an average of 14 years to around two. He said that they would continue to work on reducing that average for convicts seeking clemency.

Fetterman spoke for about 20 minutes about the depth of Pennsylvania's clemency obstacles. He said that the state was second only to Florida in how many people die while in prison. He went on to say that the system has stagnated for 40 years and was exacerbated when Pennsylvania's Board of Pardons pardoned Reginald McFadden, a convict charged with murder, in 1994.

McFadden, upon his release from prison, proceeded to murder two people and rape a woman. The state legislature then decided that the vote to commute a life sentence must be unanimous. The board of people who decide on commutations in Pennsylvania include Fetterman, Attorney General Josh Shapiro, Corrections Expert Harris Gubernick, psychiatrist Dr. John P. Williams, and Victim Representative Marsha H. Grayson, Esquire.

Fetterman pointed out the irony that it takes a two-thirds vote to change the Constitution and yet all must agree upon commuting a person's sentence.

"The criminal justice system is horrifically arbitrary in many cases," said Fetterman in an interview with The Northside Chronicle.

However, Fetterman is confident with the efforts he has made so far to gain support from Republicans, who control both the state House of Representatives and the Senate.

"It's been encouraging. And this idea that you're going to convert every heart is not—that's not the goal. But the goal is to move the perception on what criminal justice reform can be," said Fetterman. "Because the reality is, in the era of divided government, and that's what we have for the foreseeable future in Pennsylvania, you have to have a collaborative effort between Republicans and Democrats."

When asked about criminal reform in regards to the perception of high crime in the Northside, Fetterman "gently push[ed]" back on that idea.
"I've spent plenty of time in the Northside, and I think it's one of the jewel neighborhoods of Pittsburgh," said Fetterman. "And I don't see it as riddled with crime, I see it as an amazing community."
Following Fetterman's speech, NSCDF Executive Director Mark Masterson accepted checks from partners of the NSCDF and praised their generous financial support. He acknowledged the hard work of the small businesses that have received financing from NSCDF, mentioning Cafe on the Corner, Bier's Pub, Young Brothers Bar, and Penn Brewery. Other small businesses that were supported by NSCDF and spotlighted at the event were Elliance, Fabled Table, M&A Tax, Observatory Hill Deli and Pittsburgh Acupuncture & Massageworks.